Is Jazz Dead? No!
Submitted by press on Mon, 02/08/2010 - 20:57
Writer/Filmmaker Bret Primack's latest video offers his thoughts on a question, which like indigestion, seems to surface occasionally, Is Jazz Dead?  Not surprisingly, with his four hundred and forty posted videos garnering nearly ten million views on his Jazz Video Guy YouTube Channel, Mr. Primack is optimistic about the future of America's home grown art form.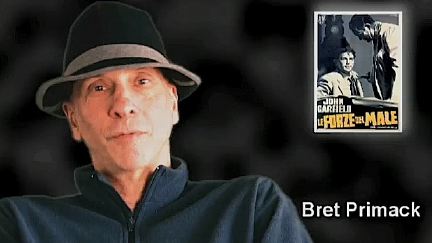 "This is the first video I've done where I offer commentary, not unlike what I did as the Pariah," Primack reports.  "I know people have to write about something, but all this chit-chat about the demise of Jazz is preposterous. So I made this video in response to the tabloid mentality of some arts correspondents."
The first Jazz blogger with his site Bird Lives, in 1997, Bret, aka the Pariah, was a crusader for truth and justice in the music industry.  He made a lot of friends and broke new ground on the web, but also alienated powerful people who resisted any change to the status quo.
"I've paid some dues because I spoke the truth, but it wasn't as bad as Dalton Trumbo and the Hollywood 10," Primack believes, referring to the screenwriters who were jailed during the 50s Blacklisting scare.  "In fact, I'd do it again in a heartbeat.  Given the response to my first video commentary, I suspect I'll be doing more on my YouTube channel, which now has 10,000 subscribers.  But the Jazz business has changed dramatically in the past ten years.  Most of the old guard is largely gone, unable to make the transition to the new media landscape."
Primack continues his work with Sonny Rollins, Billy Taylor and Joe Lovano, posting ten new videos a month that he produces himself, in addition to gems from Billy Taylor's video archives.
His latest production, "Joe Lovano's Surprise," features an interview with the saxman discussing how he broke both arms in 2009, the recovery process, and his exciting new group, Us Five which includes Lovano on saxophones, James Weidman on piano, Esperanza Spalding on bass, Otis Brown III and Francisco Mela, on drums.  "Joe Lovano is one of the people keeping Jazz alive and healthy," Primack explains, "so I'm happy to report that Joe himself is back on the road.  Nothing short of a nuclear attack is going to stop that Jazz Warrior."
Bret is currently editing video he shot at a December trio session led by saxman Bob Mintzer, featuring organist Larry Goldings, and drummer Peter Erskine for the Japanese label, Pony Canyon.  "Some really amazing music from those cats," Bret believes. 
View "Is Jazz Dead?  No!"
http://www.youtube.com/jazzvideoguy
View "Joe Lovano's Surprise"
Visit Planet Bret