Jazz Museum Events: Sept. 23-26, 2008
Submitted by press on Sat, 09/20/2008 - 12:16
The season change, summer becoming fall, doesn't apply to the programming of the National Jazz Museum in Harlem since you can depend on something hot and fresh each week.
 
Take our Tuesday Jazz for Curious Listeners class for instance. Wynton Marsalis's Blue Interlude recording was the first long composition by the most influential jazz musician of his generation. Come discover what makes Marsalis a special composer of the jazz idiom and how this recording foreshadowed his future works.
 
Two elder statesman of the music will parlay a discussion on Thursday for Harlem Speaks: Dr. Billy Taylor, of whom the museum just spent a month of classes, will come back to the Visitor's Center to interview Chico Hamilton, still going strong after 60 years at the trap drums.
 
Then for a unique twist on jazz music, see David Ornette Cherry's Ensemble for Improvisers at the Rubin Museum of Art on Friday for Harlem in the Himalayas. Come be a part of history in the making.
Tuesday, September 23, 2008
Jazz for Curious Listeners
What Makes it Tick? Five Classic Albums
7:00 – 8:30pm
Location: NJMIH Visitors Center
(104 E. 126th Street, Suite 2C)
FREE | Reservations: 212-348-8300 or register online
Wynton Marsalis: Blue Interlude
"Blue Interlude" is an ambitious work centered on two mythic lovers, and it beautifully executes Wynton Marsalis' stated fundamentals of jazz: a communal conception of improvising, vocal effects on instruments, swinging rhythms, blues, and a sense of mystery and even melancholy. There are echoes of Duke Ellington and Charles Mingus, yet on this, his first extended composition on record, he establishes his own compositional stamp.
If you've listened to this recording before, or even if you haven't at all, rest assured that you'll hear Marsalis' "mastery of making four horns sound as full and as varied in timbre as a big band," says Loren Schoenberg in The NPR Curious Listener's Guide to Jazz.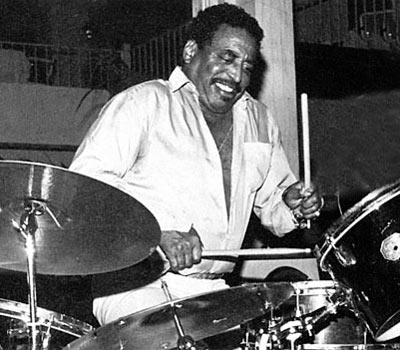 Thursday, September 25, 2008
Harlem Speaks
Chico Hamilton, Drummer; Interviewer: Dr. Billy Taylor
6:30 – 8:30pm
Location: NJMIH Visitors Center
(104 E. 126th Street, Suite 2C)
FREE | Reservations: 212-348-8300
Legendary jazz drummer and bandleader Chico Hamilton, born September 21st, 1921 in Los Angeles, had a fast track musical education in a band with his schoolmates Charles Mingus, Illinois Jacquet, Ernie Royal, Dexter Gordon, Buddy Collette and Jack Kelso. Engagements with Lionel Hampton, Slim & Slam, T-Bone Walker, Lester Young, Count Basie, Duke Ellington, Charlie Barnett, Billy Eckstine, Nat King Cole, Sammy Davis Jr., Billie Holiday, Gerry Mulligan and six years with Lena Horne established this young West Coast prodigy as a jazz drummer on the rise, before striking out on his own as a bandleader in 1955.
Chico's impact upon jazz includes the introduction of two unique and distinct sounds: first in 1955 with his Original Quintet which combined the sounds of his drums, the bass of Carson Smith, the guitar of Jim Hall, the cello of Fred Katz, and the flute of Buddy Collette; and the second in 1962 with his own drums, the bass of Albert Stinson, the guitar of Gabor Szabo, the tenor sax of Charles Lloyd, and the trombone of George Bohanon.
In 1997, Chico received the New School University Jazz & Contemporary Music Programs Beacons in Jazz Award in recognition for his "significant contribution to the evolution of Jazz". In 2002, Chico was awarded the WLIU-FM Radio Lifetime Achievement Award. At the IAJE in NYC January 2004, Hamilton was awarded a NEA Jazz Master Fellowship, presented to him by Roy Haynes. In December 2006, Congress confirmed the President's nomination of Chico to the Presidents Council on the Arts. And in 2007, Chico received a Living Legacy Jazz Award as part of The Kennedy Centers Jazz in Our Time Festival, as well as receiving a Doctor of Fine Arts from The New School.
Dynamic as ever at the age of 86, Chico Hamilton has a resume that includes scores for film, original compositions, commercial jingles, 50 + albums as a leader, and countless international tours.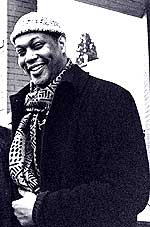 Friday, September 26, 2008
Harlem in the Himalayas
David Ornette Cherry with The Ensemble for Improvisors
7:00pm
Location: Rubin Museum of Art
(150 West 17th Street)
$18 in advance | $20 at door |
Box Office: 212.620.5000 ext. 344
David Ornette Cherry grew up in Watts, California. This Watts young man, son of Don Cherry, later won the 2003 ASCAP- Chamber Music America Award for adventurous Programming of Contemporary Music. He is inspired by themes of silence and nature versus technology.
The pulses and melodies that arise from his jazz, classical, African, world music background, and from playing with some of the great jazz artists of our times, speak about our human experiences through the language of sound. He listens with an open heart and fresh mind to his collaborators and the world around him in a way that makes his compositions not only music, but a way of life a positive form of energy, and a way to connect. His current group is titled Ensemble for Improvisors, the latest iteration of which you can hear tonight.
David Ornette Cherry studied music composition at Bishop College in Dallas and began concentrating on "world music" at California Institute of the Arts. He spent challenging summers attending the Creative Music Studio at Woodstock, New York. These summer experiences gave him the space to compose and create music with Trilok Gurtu, Olatunji, Jai Deva, and Foday Musa Suso and to explore the relationship of jazz and music from other cultures. While jazz remains both the root and sustenance of his sound, he often incorporates the sounds of the world in what he calls "multi-kulti" music. Acoustic piano, electronic keyboards, melodica, wood flute and douss'n gouni are his instruments.
He sees himself crossing borders drawing from the past - building a passageway to jazz of the future. David states, "The music never stopped. Jazz is dynamic. It is a continuum that expands and takes from the players and composers so they can add their little something to the art. It's not about JUST referencing the past. It's about keeping the momentum going like a ball that keeps rolling along."
David Ornette Cherry's future plans include: "Creating a musical intensity which invigorates and sets trends in jazz of the future, passing the torch to take the music beyond...to become another color in the ever-expanding sound spectrum."