Jeff Tweedy of Wilco - Boulder Theater's 75th Anniversary Kick Off!
Submitted by mike on Tue, 12/07/2010 - 04:56
The Boulder Theater is proud to announce two special performances with singer, songwriter and guitarist Jeff Tweedy on January 7th and 8th, 2011.  These concerts celebrate opening weekend of the 2011 concert season, and will be the first in a series of events commemorating this cultural institution's 75th Anniversary.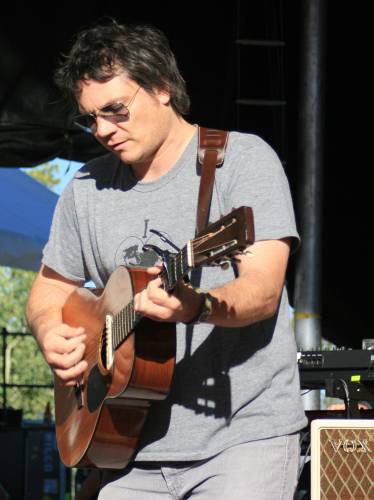 As the founding member and leader of the ground-breaking American rock band Wilco and co-founder of the alt-country band Uncle Tupelo, Jeff Tweedy is one of contemporary American music's most accomplished artists. Since starting Wilco in 1994 Tweedy has written original songs for seven Wilco albums, sold millions of records worldwide, won two Grammy Awards, and earned rave reviews from critics and fans alike. Wilco's latest studio album, 2009's Grammy-nominated Wilco (The Album) landed on many critics' lists as one of the year's best albums and Rolling Stone magazine cited Wilco's 2002 album Yankee Hotel Foxtrot as the 3rd best album of the decade.
While maintaining a full schedule of recording, releasing albums and touring extensively with Wilco, Tweedy has also toured frequently as a solo artist, playing intimate unscripted acoustic sets that draw from his 400-plus song repertoire.  A departure from Wilco's carefully orchestrated, sonically complex performances, the solo concerts showcase Tweedy's prolific output as a songwriter, his proficiency as a guitarist and his wry sense of humor.
Tweedy's most recent work includes the launching of Wilco's Solid Sound Festival in North Adams, MA and producing soul and gospel legend Mavis Staples' latest release, the 2010 Grammy-nominated You Are Not Alone.
Come celebrate the Silver Anniversary of The Boulder Theater, which opened for business on January 9th, 1936 with a screening of the Paramount Pictures film, "A Bride Comes Home".
Tickets are on sale at Boulder Theater Box Office. Call (303) 786-7030 for tickets by phone.  Tickets are also available through the Boulder Theater website @ www.bouldertheater.com.