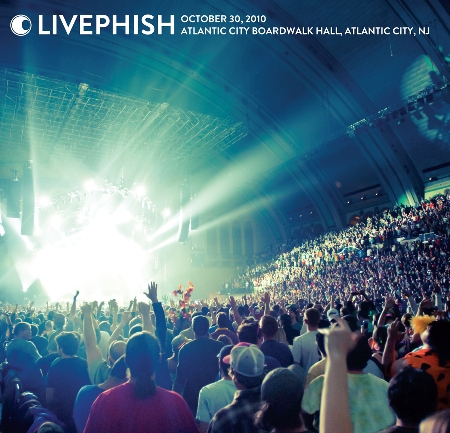 On Saturday, October 30, 2010, Phish played the second show of a sold out three-night Halloween celebration at Boardwalk Hall in Atlantic City, New Jersey. Boardwalk Hall is a historic indoor venue built in 1927 with a prime spot on the Boardwalk with sweeping views of the beach and ocean. Having prepared to unveil their sixth "musical costume" (Little Feat's Waiting For Columbus) the following night, the band used this middle show to tease the audience about a heavily rumored Led Zeppelin cover.
Night two at Boardwalk Hall opened with "Kill Devil Falls" followed by "Cavern", "Foam" and "Guelah Papyrus". It was apparent that the band had begun their Halloween transformation as they sounded throughout this show like Little Feat playing Phish music – a sonic treat for all in attendance even though the musical costume was still a well-guarded secret. Set one continued with a blistering "Chalk Dust Torture" that tore naturally into Phish's first true performance of Led Zeppelin's "Whole Lotta Love" > "Chalk Dust Torture". The band had soundchecked "Whole Lotta Love" earlier to fuel the gag (fans leaked the check on the internet) so playing it live confirmed that Zeppelin was just a rumor. Laughing aloud at their prank, the next song was the obvious yet rare "Ha Ha Ha". The James Gang's "Walk Away" came next followed by a crushingly funky, Feat-inflected sequence of "Wolfman's Brother" > "Undermind" > "Bathtub Gin". This intense three-song combo set up the chance to end Gin with one of many "Whole Lotta Love" teases that dotted the evening. "The Squirming Coil" gave Trey the clever opportunity to sing about seeing Satan on the beach, and Page an invitation to layer Led Zeppelin's "Thank You" into his gorgeous piano outré.
Set two began with "Tube" > "Possum", the latter weaving through more "Whole Lotta Love" teases before setting up the centerpiece of the set – a "Tweezer"-based journey through Led Zeppelin's greatest hits by Phish- turned-Feat. This supercharged, historic "Tweezer" rolled in and out of partial performances of "Heartbreaker", "Ramble On", "Thank You" and last but not least "Stairway To Heaven". Three of the four Zeppelin songs were Phish debuts and, after the Stairway ending, the band proudly took their first pause of the set while the audience went haywire. "Halley's Comet" > "2001" provided a nice passageway to "David Bowie", which introduction Trey customized by spiking it with Robert Plant's live "25, 25, 25" exhortations from "Dazed And Confused". "Show Of Life" was next, followed by "Backwards Down The Number Line" > Good Times, Bad Times". The encore was "Sleeping Monkey", which gave Trey a chance to sing more about the shore before ripping the roof off with "Tweezer Reprise". The Reprise included more "Whole Lotta Love" and "Dazed And Confused" tricks and treats, putting the final touches on a spectacular Halloween Eve.
--
Phish 10/30/10 Boardwalk Hall, Atlantic City, NJ
SET ONE
Kill Devil Falls
Cavern
Foam
Guelah Papyrus
Chalk Dust Torture
Whole Lotta Love
Chalk Dust Torture
Ha Ha Ha
Walk Away
Wolfman's Brother
Undermind
Bathtub Gin
The Squirming Coil
SET TWO
Tube
Possum
Tweezer
Heartbreaker
Tweezer
Ramble On
Thank You
Tweezer
Stairway To Heaven
Halley's Comet
2001
David Bowie
Show Of Life
Backwards Down The Number Line
Good Times, Bad Times
ENCORE
Sleeping Monkey
Tweezer Reprise
--
Live Phish 10/30/10 Boardwalk Hall, Atlantic City, NJ
--
Phish 10/26/10 Verizon Wireless Arena – Manchester, NH
On Tuesday October 26, 2010, Phish played their first Granite State show in sixteen years at Verizon Wireless Arena in Manchester, New Hampshire. The VZW Arena is a multi-purpose arena built in 2001 with a capacity of about 10,000. A drive through the foliage was but one of the peak attractions of this out-of-the-way gig. It was the last show before the Halloween run and the band played a loose, relaxed show chock full of surprises for the New England faithful.Set one of Mansfield began with Phish's first "After Midnight" since the epic Big Cypress Millennium events nearly eleven years earlier. "The Sloth" came next followed by "Alumni Blues" > "Letter To Jimmy Page" > "Alumni Blues", during which Trey added lyrics about his Alma matter Goddard College. An especially Rasta, New Hampshire reggae extravaganza began to take shape with Bob Marley's "Mellow Mood". "Access Me" was played for the third time ever, continuing the string of bust-outs and setting the stage for Leo to shine on "Llama". Next came "All Of These Dreams" – a poignant Trey, Tom Marshall, Scott Herman ballad that was played for just the second time since the band's 2009 reunion. "The Curtain With" > "Scent Of A Mule" brought the first improvisational heights of the evening, followed by "A Song I Heard The Ocean Sing". Set one came to a close with the ambitious combination of "It's Ice" > "Walls Of The Cave". After this parade of rarities, set break was abuzz with speculation about the rest of the show.
A nearly seamless second set began with the high energy of "Possum" > "Light" > "Mike's Song" > "Simple". "Light" exploded into some of the show's most exploratory playing. Energy remained high and consciousness higher as the utterance of "Makisupa Policeman" gave way to Phish's first and only performance of "Night Nurse" – a tribute to Gregory Isaacs who passed away the previous day. Makisupa picked back up where it left off, creating a bridge to "The Wedge" after which the band paused for the only time during set two. "Ghost" came next and lit up the room before segueing into "The Mango Song", which reached its own heights fueled by Page's soaring piano work. Trey started to close Mike's Groove by transposing the "Weekapaug Groove" rhythm over Mango's ending. Some cool jamming ensued as Fish switched to sixteenth notes on the high hat and "Weekapaug Groove" developed into a Uticular jam that found lyrics from "Ghost" and "Night Nurse" intertwined with a "Can't You Hear Me Knocking" ending. This crazy Weekapaug boiled over into a return to "Llama" that ended the body of set two. The "Show Of Life" provided a fitting encore to this special gig.
--
SET ONE
After Midnight
The Sloth
Alumni Blues
A Letter To Jimmy Page
Alumni Blues
Mellow Mood
Access Me
Llama
All Of These Dreams
The Curtain With
Scent Of A Mule
A Song I Heard The Ocean Sing
It's Ice
Walls Of The Cave
SET TWO
Possum
Light
Mike's Song
Simple
Makisupa Policeman
Night Nurse
Makisupa Policeman
The Wedge
Ghost
The Mango Song
Weekapaug Groove
Llama
ENCORE
Show Of Life
Live Phish 10/26/10
Verizon Wireless Arena