Jeremy Dion | Golden Some Day | Review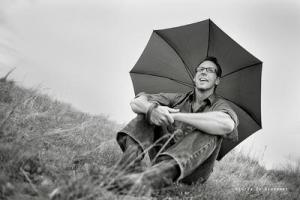 Golden Some Day is Jeremy Dion's latest release and has much to commend it. Admittedly, there is a whole lot of variety to these arrangements and performances. First: Dion and his impressive band delivers rock solid playing like a well oiled machine. This is testament to hundreds of hours of rehearsal time no doubt. Second: Dion himself possesses a voice and an impassioned writing style that hits the mark remarkably well within the folk-pop music arena. He has the attributes required of an effective singer/songwriter. Third: his sound and amazing songwriting touch are as good as it gets within modern pop. All songs are a skillful combination of modern pop rock yet with a slight Folk-Alternative Rock aftertaste that reminded me of Shayne Ward, and John Mayer. Dion has all the creativity and songwriting prowess to be extremely dangerous. What am I trying to say – well let m start by saying there is nothing fake and superficial about Jeremy Dion and his music. It's nice to know some artists still take their soul into the studio with them rather then leave it at the door. Not every square inch is filled with musical ambience delivered under duress – but musical space this allows the music to breathe on its own with passion that cannot be faked. Equally as impressive is how marketable this catalogue truly is. It covers so much ground and despite this manages not to spread itself to thin across to many lines – nice touch. I've always said if you can play it a party or a gathering, then it's marketable. The music is extremely marketable - with a fresh sound that is passionately optimistic very much like Dion himself. My favorite songs are: Good as the Rain, Desperate Mama, and Live to Hallelujah.
Let me go on record by stating Jeremy Dion has no weaknesses that I can see and hear. He has everything and this latest string of songs on Golden Some Day are and endearing staple limited by nothing. I would imagine in time we will hear more from this artist from Colorado in the years unfold. Time will tell but I can honestly say this is one artist that is set up for marketable success down the road with her musical personality and fresh sound that gives modern pop a well needed wake up call.