Jeremy Garrett Delivers a Diverse Acoustic Collection w/ I Am A Stranger
Submitted by mike on Sat, 03/28/2009 - 05:38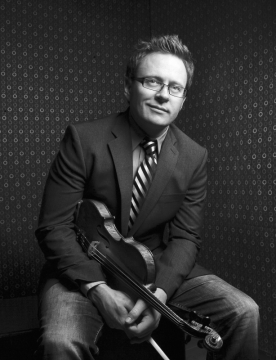 "It's my best attempt at not being too shallow," laughs The Infamous Stringdusters' Jeremy Garrett when you ask him about his first solo project, but don't take him at his word.  Indeed, it doesn't take more than a moment's worth of listening to I Am A Stranger for anyone to realize that the young singer, songwriter and fiddler has accomplished much more than that.  Debuting on March 31st as a Sugar Hill Records digital-only release, the album serves up a healthy portion of cutting edge bluegrass along with a few curves that will leave even the most jaded listener satisfied with the project's depth.
Like bandmate Andy Hall, whose Sound Of The Slide Guitar earned the IBMA's Instrumental Album of the Year title in 2008, Garrett highlights his Stringdusters bandmates on a tasty selection of material while leaving plenty of room for contributions by a carefully chosen assortment of friends and colleagues who just happen to be among bluegrass and country's finest.  "Honestly, the musicians were as big a part as the songs were," he says.  "I envisioned how each song would go with particular musicians in mind, and there were songs I wanted to do but didn't because the musicians weren't right, and others that I added because the musicians fit them so well--like Julie Elkins on banjo, whom I've played with since we both lived out west, or Shawn Lane, who's one of the best mandolin players on the planet."
Choosing to focus on "songs that were fairly simple, but with some real depth," Garrett spent the early part of 2008 assembling a collection of actual and future classics.  Some, like the title track and the light-hearted "I Knew You Would Love Me," offer convincing evidence of his own writing talents; others come from grass-rooted favorites like John Pennell, Jeff White and Craig Market, while the genre's stalwarts get a nod in a delicious recap of Flatt & Scruggs' "What's Good For You," sung with Americana sweetheart Abigail Washburn.
But while much of I Am A Stranger is devoted to the kind of energetic bluegrass that Garrett's been contributing to the Stringdusters over the past four years, other numbers stretch out to reflect other aspects of his musical personality--and again, whether he's accompanying himself on the mournful "Fields Of My Mind," learned years ago in his native Idaho, leaning on Music City stalwarts Paul Franklin and Jeff Taylor for piano and steel on Hank Thompson's "Today," or borrowing a song from personal favorites U2, each setting is carefully crafted and each performance compelling.
For those already familiar with his career, the breadth, substance and spirit that pervade the set will come as no surprise.  After moving to Nashville some seven years ago, Garrett swiftly ascended into the ranks of the city's busiest musicians, serving stints with Chris Jones and Ronnie Bowman while filling in with legends like Bobby Osborne before launching the Stringdusters with a group of like-minded colleagues.  The group quickly jumped into the forefront of a bluegrass youth revolution with the release of Fork In The Road (2007), earning the IBMA's Emerging Artist, Album and Song of the Year honors from the International Bluegrass Music Association for its compelling vocals--many featuring Garrett's wailing tenor--instrumental brilliance, engaging song choices and blend of taut, hard-driving precision with loose, funky jams.  Grabbing a brief time-out from a hectic tour schedule, the group went back into the studio to produce last year's follow-up, The Infamous Stringdusters, and then hit the road again.
"This one became a super-intense passion for me," Garrett says as he recalls working on his own album in between 'dusters tours.  "Somehow holes opened up, and we recorded for a total of about five days, and wrapped it up at the beginning of December.  By that point, I'd been concentrating on it so hard that I just took a break from it--but you know," he adds," I listened to it again for the first time in a while not long ago, and I thought it sounded pretty decent."  To which it only needs to be added, don't take his word on that either; whether a bluegrass, Americana or just plain good music fan, any listener will find that I Am A Stranger is one enduring introduction to the full breadth of one of the scene's brightest talents.