John Brown's Body & Katchafire @ the Fox
Submitted by mike on Wed, 01/19/2011 - 22:52
In 2006, John Brown's Body found itself at a crossroads, when the death of bassist Scott Palmer broke the band's heart. After the tragedy, several longtime members left the group. But, a strange thing happened to the band staring at its own mortality: somehow, JBB emerged transformed and inspired.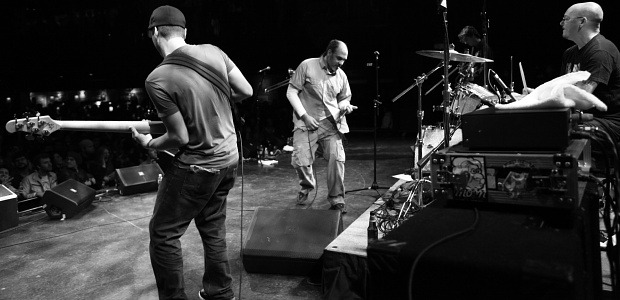 A vital, creative energy sprang from the band's new dynamic and new members. JBB found itself pushing more at the edges of reggae. New songs incorporated slinkier bass lines, denser instrumentation, less predictable rhythms. Beats became funkier, more drum-and-bass inflected.
JBB realized it was at a turning point: keep playing the same style of music, or follow the new sound and see where it leads. It was the same way the band members felt about reggae: how do you break rules and create something unique while still honoring the music that came before?
The answer is that it's possible (and ultimately necessary) to push forward.  "Future Roots," which the band began using to describe its sound as far back as its 2005 Pressure Points release, took another step forward. The current evolution builds on a reggae foundation, incorporating elements from different genres. The new songs are timeless and futuristic all at once, anchored and exploring simultaneously.
These explorations are instantly evident on Amplify, which debuted at #1 on Billboard's Reggae Chart in October 2008, and its remix follow-up EP, Re-Amplify, released in March 2009 also debuting on the Billboard's Reggae Top 10 Chart.
"Amplify is the sound of a band recreated, retooled and refreshed," writes Canada's Exclaim Magazine, and other reviewers agree: "Amplify has a forward thinking, fearless approach to tempos, beats and feel that expands the genre of reggae as a whole." [Amazon].
While Amplify showed the world the fearless new directions JBB's music is headed in, Re-Amplify took it even further by putting the band's songs into the hands of outside remixers for the first time. Working with Gym Class Heroes' Disashi Lumumba-Kasongo, Juno-Award-nominated producer Dubmatix, dance floor pioneer Tommie Sunshine, Australia's urban roots powerhouse Blue King Brown and others, the band's songs were stretched every which way, resulting in an EP that pleased fans and opened the band up to even further possibilities in their musical approach. How open? The band liked Dubmatix's remix of "The Gold" so much, they switched to playing that version in their live sets.
JBB's live show has the kind of organic, body-rocking sound that's only possible with an 8-piece band where air tight drum and bass, a three piece horn section, and "the most gorgeous melodies in all of modern reggae music" [All Music Guide] meet a dubbed-out sound engineer. Where will JBB head next? The near future includes first ever tours of the UK and New Zealand, as well as initial work on the follow up to Amplify. What direction will the music take? Who knows, but whatever it is, it is sure to push boundaries.
--
Tickets are on sale at Fox Theatre Box Office. Call (303) 443-3399 for tickets by phone.
Tickets are also available through our website @ www.foxtheatre.com.
$18 adv / $22 dos
Tickets On Sale – Friday January 21st!