John Brown's Body | Kings and Queens | New Music Review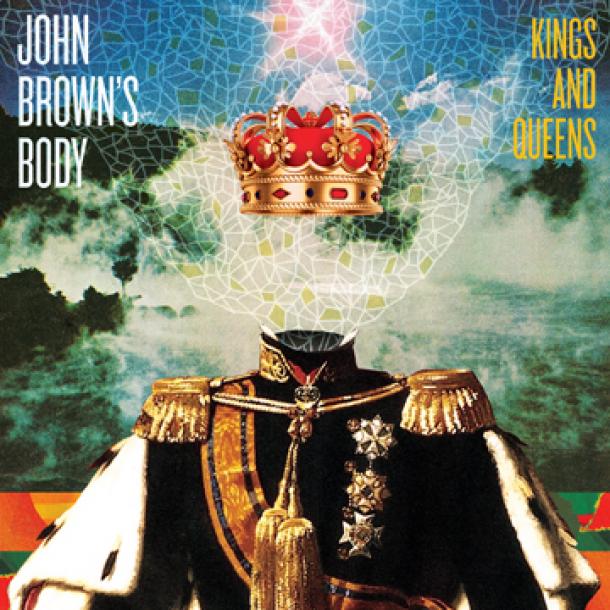 Horns and go, "Step Inside" insists immediately. The tune takes a nostalgic turn near the end, riffing on some old jazz, but it's largely a characteristic overture for Kings and Queens – a slight shift from the early days of John Brown's Body has taken form here, albeit grounded firmly in roots from the same tree.
This band hasn't rested on its early-dub laurels in passing years (see Amplify); no exception here. Kings and Queens toys with brass in self-coined "future roots music" throughout its twelve-song collection, showcasing mastered instrumentals over a recognizable brand of shape-shifting pop-riddim. "Invitation" is almost Skindred – for a second – then it's back to basics. Good. "Shine Bright" and "The Battle" are similarly solid tracks recorded as if standing ankle-deep in island sands. Harmonies, beats, what you'd expect from the band.
What separates John Brown's Body from the white-boy likes of Slightly Stoopid and Pepper is the build; the Body peaks high, higher than the others by a long shot. (Maybe SOJA comes close, but the Virginia activists are far more dedicated to causes then meditation in their melodies.)
Even so, Kings and Queens would be remiss in the eyes of American reggae fanboys if a call to arms was ignored utterly. John Brown indulges: "Plantation" is so-so, going through the motions; it might fare well in a dubbed-out mix somewhere down the line but singer Elliot Martin's vocals seem a bit strained as it stands. "Empty Hands" swirls like a Scooby-Doo chase on a politico-reggae groove, waiting for Redbeard's ghost and his crew to reveal themselves in a police state. "Dust Bowl" crackles in a Marley speech and hooks on near-pop. (This one caught me by surprise, a return to prior structure.) "Starver" wants to say something as well; its choir is haunting, and the band cries for an unmentioned desire (we want it, we want it). Between the title and the vague yearning for something of substance, this one's textbook armchair activism set to tune.
Interesting enough, the lead single ("Old John Brown") is probably the most eclectic spot on the album. It's an entertaining song, something Raffi might have penned if he was singing about the gallows pole instead of belugas. I almost wish they'd spend an album's worth on this story, maybe it's not so polished but there's fun in the message for change.
Time to settle down. "Fall On Deep" relaxes, and the requisite island organs meander in. This one doesn't need to roam, content in a pretty place. Yes, we gonna fall on deep, together... "Deep Summer" is just that, a groove for a sunny day in the heart of July. The sax pulls away from the Body for a while, but it's not going anywhere.
Topping off at last call from a vacation pool-bar, "Searchlight" has instrumentals that could easily back a Hannah Montana radio-friendly. I guess it works on its own; no idea what it's doing here, though. Be ready now, ready now, Martin insists. You heard it here first: John Brown's Body is making a play for the Top 40.
Jokes and curiosities aside, Kings and Queens is quite enjoyable. John Brown's Body always lets off solid reggae vibes, and I can't burn 'em for shifting gears on this drive chasing a new wave. (I'll always prefer Among Them, but this'll do fine.) It's a new incarnation, still king albeit of a different realm.