John Lee Hooker, Jr. Is "All Hooked Up" on New CD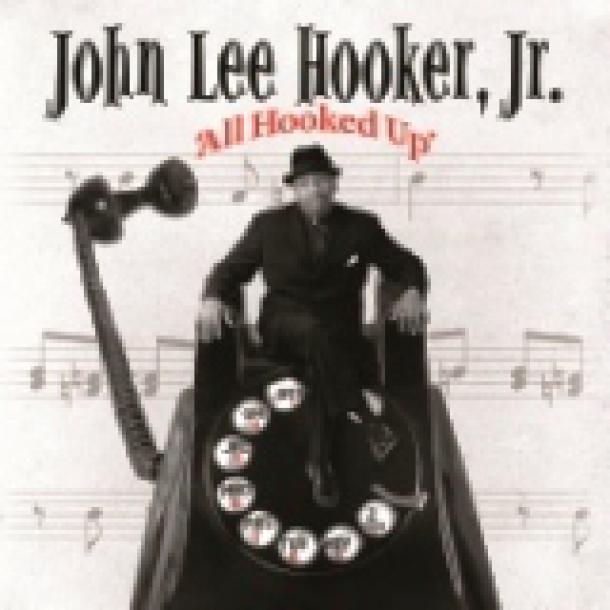 Multiple Grammy and Blues Music Award nominee John Lee Hooker, Jr. announces a September 18 release date for his exciting new CD, All Hooked Up, on his own Steppin' Stone Records, with national distribution by INgrooves Fontana. The new CD was produced by renowned writer/producer Larry Batiste, recorded at Pajama Recording Studios in Oakland, California, and features special guests Lucky Peterson on guitar and "The Cleanup Woman" herself, Betty Wright, who duets with John Lee on the sizzling and soulful track, "I Surrender."
The All Hooked Up album package also features a special bonus DVD, rated PG, of an animated film noir video for John Lee's song, "Dear John." The video was created by French production studio Callicore, under the dynamic creative team of Laurent Mercier and Xavier Semen.
All Hooked Up is John Lee's fifth album and showcases the amazing versatility of the singer on an even-dozen original songs that demonstrate his roots in the blues, as well as soul, gospel, funk, rock and even a touch of jazz. On the new CD, he's backed by a tight, in-the-pocket band that kicks with a solid groove and includes a host of Bay Area all-star musicians who totally bring the funk to all the proceedings. And while he is his father's son, John Lee Hooker, Jr. is definitely his own man with his own sound.
Highlights on the new CD are many, starting with the lead-off track, "Tired of Being a Housewife," a gritty, urban blues about a neglected wife breaking the bonds of her not-so-holy-matrimony and sowing some wild oats of her own; "You Be My Hero, " John Lee's salute to all the men and women in the U.S. military featuring some electrifying guitar by the great Lucky Peterson; the funky "Listen to the Music," complete with a New Orleans second-line beat; the duet with Betty Wright on "I Surrender," which sounds like something from a Curtis Mayfield session during the classic days of soul; and the title track, an autobiographical song of Hooker's trials and tribulations growing up the son of an iconic bluesman, presented with an uplifting spirit and based in a solid funky dance groove that goes through the ceiling. On "Hard Times" and "Let Me Be," he's in classic blues form, accented by some blistering guitar and harmonica on the former, and shouting horns on the latter; and on "Pay the Rent," Hooker shows his versatility with a jazzy vocal that recalls Lou Rawls in style and timbre. 
Born in Detroit, John Lee Hooker, Jr. was weaned on the blues at an early age by his illustrious father: by the time he was eight years old, the youngster was already performing on local radio station WJBK and when in his teens, he was already touring with the boogie master. Exposed to blues great such as Jimmy Reed, and local heroes Washboard Willie, and Boogie Woogie Red, the young Hooker became a regular at such prestigious venues as Detroit's Fox Theatre and other upscale Motown clubs. At 18, he was recording with his father, most notably on senior's landmark Live at Soledad Prison album for ABC Records.
The young John Lee eventually fell victim to the temptations that his father's celebrity and financial status afforded him, and what followed were several years of dark and desperate times mired in the street culture which brought with it the drugs and alcohol that soon became his crutch. Following the life-altering event of his father's death, and with his strong religious beliefs and the help of family and friends, John Lee Hooker, Jr. emerged out of the shadows triumphantly with the release of his debut CD, Blues with a Vengeance, released in 2004 on Kent Records. 
The newly-awakened artist received the 2004 "Comeback Artist of the Year Award" from the San Francisco Bay Area Blues Society, "Outstanding Blues Album of the Year" from The California Music Awards, a "Best New Artist Debut" nomination from the Blues Foundation and topped it off with a "Best Traditional Blues" Grammy nomination.
Cold as Ice came next on Telarc Records in 2006 and in 2007 the first CD on his own label, All Odds Against Me, which garnered another Grammy nomination. In 2010 came the release of his Live in Istanbul, Turkey CD. During that time, he toured all over the world with artists such as Lenny Kravitz, Taj Mahal and ZZ Top and also became the musical "face" of America's prestigious U.S. Open in CBS-TV. His personal story of physical rejuvenation and spiritual rebirth even landed him an interview on the "700 Club" TV show and on the cover of Healthy Living magazine.
John Lee Hooker, Jr. is currently touring extensively in the U.S., Europe and other parts of the world, performing and promoting his music.