John Lee Hooker Jr. | All Hooked Up | New Music Review
Submitted by Jason Chiu on Thu, 09/27/2012 - 10:40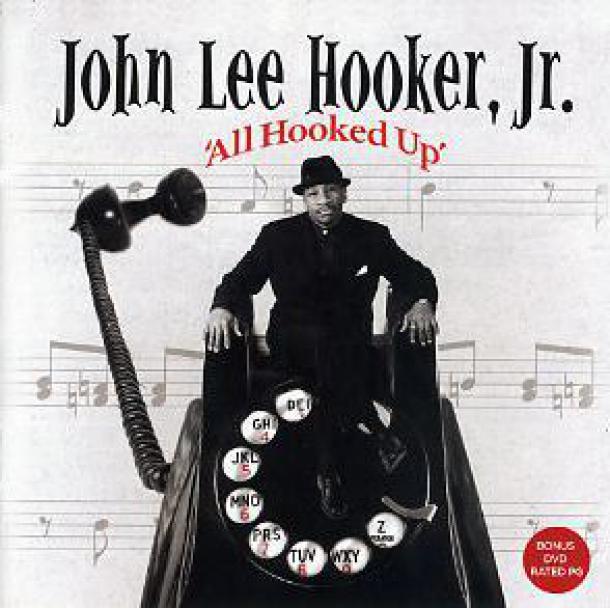 It's no surprise that John Lee Hooker Jr. has some big shoes to fill. The son of the incomparable bluesman John Lee Hooker Sr., Hooker Jr. has been out to make a name for himself as more than "the son of a blues great." It's hard to escape though, and in the end Hooker Jr. is fine with embracing his roots. In the booklet that accompanies his most recent album, All Hooked Up, he thanks his father at the end of the letter to his fans. Hooker also includes his father in the list of influences, which includes other greats such as Duke Ellington, Louis Armstrong, and Miles Davis.
John Lee Hooker Jr. says he was started on blues at an early age, basking in the warmth of his father's success. His story takes a wrong turn, though, as the royalty led to excess, eventually steeping the younger Hooker in a downward spiral of alcohol and drug abuse. Pulling himself up by his bootstraps, Hooker turned to music as his medicine, releasing albums in 2004, 2006, 2007, and a live album in 2010. Hooker newest album All Hooked Up is an album full of blues standards.
Well, calling it blues may be a bit of generalization. As is usual with most styles of music these days, one genre cannot describe an artist's repertoire. Hooker is mainly blues, but takes influences from soul, jazz, and funk to form something that feels familiar, yet also something that'd sound different for the blues devotee. I'll admit that I'm not the biggest expert in blues, so this review may come off as naïve to the diehards, but I'll try my best.
All Hooked Up starts with a funky jam about a special lady. This isn't your typical "admiration of a beautiful woman" song though. It's more of an empowerment piece, titled "Tired of Being a Housewife," a story of a bored wife finding no more love from her deadbeat husband. Hooker keeps the lyrics relevant to the digital age, mentioning the wife's "friends on Facebook" and the husband's many "porn DVDs" that he watches instead of getting nookie from his lady. It's a bit of a treatise on how gender politics may have changed in the past few years, where males' sympathizing with women is not as unnatural as it was in the past. Not a bad way to start the album at all.
The second track, "You Be My Hero," is a tribute to all the men and women in the military, past and present. It's a fitting acknowledgment, with Hooker sounding quite thankful for all the brave people going into war, but for many Americans who are jaded by war, it might be a more touchy issue. Mentions of soldiers learning how to "shoot to kill" and further celebration of the deaths of Hussein and Bin Laden can be some tricky subjects that might not sit well for some fans. It's fine in composition, but one could see how the song's subject matter and the way it is referenced may not be the best way to tackle it.
Hooker gets the most playful on All Hooked Up with the invigorating "Listen to the Music" and the classic soul of "I Surrender." The latter specifically is a highlight of the album, with guest vocalist Betty Wright sounding like a resurrected Curtis Mayfield. It's a track about love between two people, with Hooker and Wright making references to love as a prison everyone wants to be in. The similarity to Mayfield is uncanny and at times jarring, with that voice on a female, but if you just take it for what is, "I Surrender" is an extremely fun, rewarding song.
"Listen to the Music" is a barrelhouse blues jam, full of call-and-response chants and gratuitous solos. As Hooker intones, "listen to what the music has to say," and it's saying quite a lot. The bass rides the clave beat and propels the song forward, never getting old. Hooker steps back from the mic a bit, letting his skilled backing band take over for a while. "Listen to the Music" has the feel of a floor filler—something that really gets the feet moving.
Further down the album is the title track, an autobiographical take on the road that took Hooker to this point in his life. He tells it like it is, not skimping over his aspirations as a kid and the twists and turns that made him the semi-troubled soul he is today. At the end of the song, he thanks God for righting his wrongs, only able to say "thank you" as the music fades out.
However, it's not all perfect. One of the complaints that can be made about this album is that it can get tiring near the end. Whereas the genre experiments in the beginning of the album keep each track fresh, the back of the record standard blues tune after standard blues tune. It's understandable that it's incredibly difficult to try something new and interesting for each track, but the pacing could be improved. There isn't much in the second half that stands out, and so All Hooked Up can been considered a bit front-loaded.
Throughout the album, Hooker wears many faces, writing songs from a variety of at times disparate perspectives. The characters are as varied as the jilted woman in "Housewife" to the down-on-his-luck man in "Hard Times" to even an impatient landlord in "Pay the Rent." The album follows what many blues albums have done before, telling things without metaphor in a way that the listener can intuitively relate to. It's a great, easy way to establish emotional connections with a fan base, and there's no shame in doing that.
This album probably won't distance Hooker from his famous father, given that most people will wonder if the lyrics about fathers are in reference to his or just a general treatise on having a father. But it's fine to leave it unknown. Hooker Jr. has carved out a nice niche for himself in the blues world, making solid music that admirers of John Lee Hooker Sr. can appreciate. It's not about who's better or who can make a more cohesive album; it's just John Lee Hooker, Jr. and his expert band playing blues the only way they know how.