Just Announced: Collie Buddz with Cris Cab & New Kingston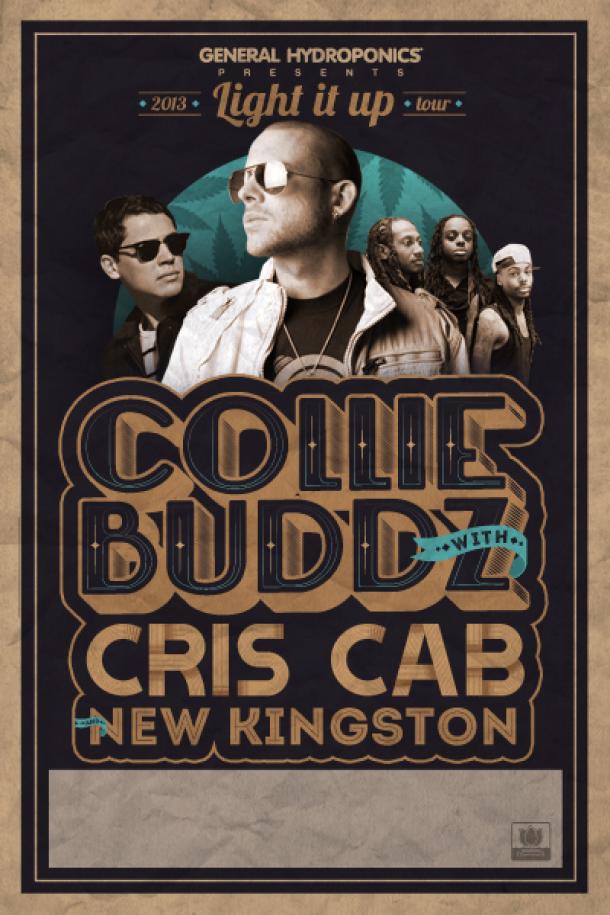 Collie Buddz will be going on tour with Cris Cab & New Kingston this April for the Light It Up Tour presented by General Hydroponics!
The tour will kick off on the East Coast before heading into Canada for four dates in Quebec and Ontario. The remaining shows will take place in Ohio, Missouri, Kansas, Texas, Louisiana, Georgia, South Carolina, and Virginia.
Cris Cab is a 19-year-old whose resume reads like this: mentored by Pharrell Williams; recording partner of Wyclef Jean; support act to O.A.R., Matisyahu, T-Pain and Gym Class Heroes; and proud owner of over 7 million YouTube views. 2012 saw the release of Cris Cab's full-length mixtape, Echo Boom (currently downloaded over 300,000 times). Named for the multi-cultural, wired generation born between 1982 and 1995, Echo Boom featured production from Cris, longtime collaborator PJ McGinnis, Wyclef, Pharrell, Supa Dupes, and 88 Keys.
New Kingston was formed in 2006 by their father Courtney Panton Sr. in their hometown Brooklyn New York, New Kingston blends Reggae with R&B & Hip-Hop to create their New York meets Jamaica sound. Their latest album 'Kingston University' released February 2013 as a follow up for their first album 'In The Streets' has already gained love across the americas and abroad.