Just Announced: Kottonmouth Kings @ Fox Theatre | 8/3/12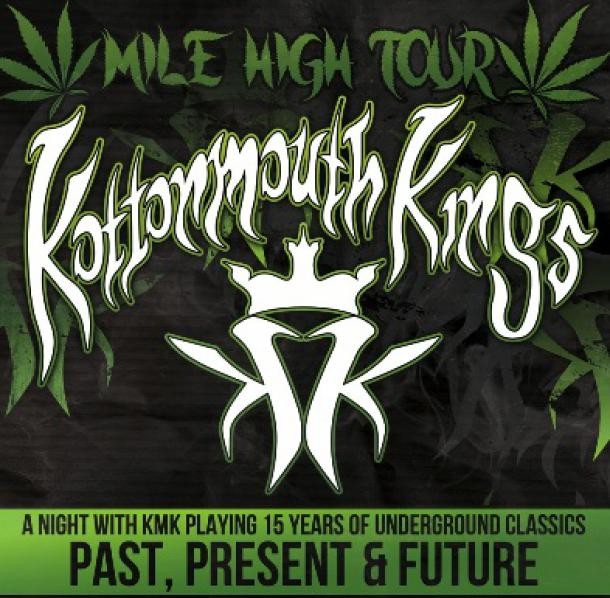 Z2 Entertainment is proud to present Kottonmouth Kings w/ Big B, Prozak & KMK Side Project at the Fox Theatre on Friday, August 3rd. Tickets go on Friday, June 29th for $25.00.
On Aug 14, 2012 The Kottonmouth Kings will release their most prolific and smashing record to date, "Mile High". It includes 18 certified bangers that will cement the Kottonmouth Kings legacy, as one of the most influential and underrated groups of our time. "Mile High" is the Kottonmouth Kings on steroids with a twist of ecstasy and a pot brownie! The sonics and bass alone on "Mile High" will blow speakers from coast to coast! So buy stock in speaker companies, if you need some investment tips. "Mile High" has the Kings passing the mic around like the Harlem Globetrotters pass a basketball. There is not a group on the planet that can rival what the Kottonmouth Kings have pulled off! "Mile High" will have music snobs down on their knees, wiping semen from their cheeks. You will find no traces of tight jeans or trendy indie trash!
The Kings are an independent music force! The Kings are seasoned vets ready to storm troop the music industry like Navy Seal Team 6 raiding Osama Bin Laden's compound! The Kings are here to take no prisoners and make no apologies. The Kings have never stopped pounding and smashing for over 15 years. What other group of our generation has done more collectively and as a unit? What other group releases as much prolific solo and group material. It is high time to recognize that the Kottonmouth Kings are not some novelty weed act - but one of the most intensely original and profound groups of our generation. Don't take our word for it - go to a show and you will see thousands of people lose their fucking minds every time the Kings hit the stage.
"Mile High" will also contain a deluxe bonus disc that contains all the original Kings: Saint, D-Loc, Richter, X, & The Dirtball, wrecking tracks all together again! This is history! Spread the good word! Fasten your seat belts and get ready for the flight! It's 2012 and the Kottonmouth Kings have their red eyes set on the future - so be prepared to blast off to whole new dimension when the kings drop "Mile High" worldwide Aug 14th, 2012.
-
With Big B, Prozak & KMK Side Project
Friday, August 3rd, 2012
Doors:  7:00 pm
Show Time:  7:30 pm