Just Announced: March Fourth Marching Band @ The Fox | 3/28/13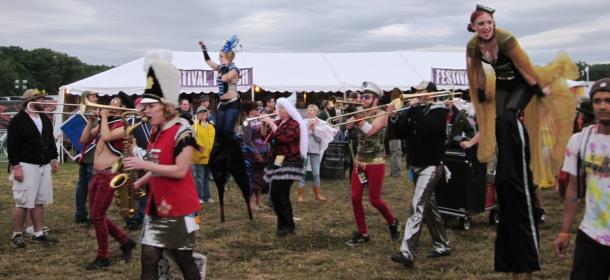 Z2 Entertainment is proud to present March Fourth Marching Band at the Fox Theatre on Thursday, March 28th. Tickets go on sale Friday, November 30th for $12.00 in advance and $14.00 day of show.
With a rallying cry of "JOY NOW!" MarchFourth Marching Band (known as M4 by its growing legion of fans) throws itself and the audience into a swirling volcano of high-energy music and spectacle. What began as a Fat Tuesday party on March 4, 2003 in Portland, Oregon has over the last 8 years become one of the nation's best live touring acts. The band will have spent over 180 days and 50,000 miles on the road by the end of 2011 alone, and thanks to word-of-mouth will soon be graduating from "best kept secret" to a band on the brink of exploding in popularity.
Aside from the band's marching band themed costumes, percussion corps and brass, M4 is far from a "marching band" in any traditional sense (though the band has been known to parade down Main Street before taking the stage). M4 is anchored by funky electric bass, and has been evolving into a more guitar- and vocal-driven musical experience. In one 90-minute set the band will take you on a journey from the swamps of Louisiana to the gypsy camps of eastern Europe to the African jungle by way of Brazil, along the way stopping to sample the deepest grooves of the best of American funk, rock, jazz and boiling it all together in cinematic fashion with high-stepping stilt-acrobatics and sexy dancers. This genre-busting approach is usually the territory of DJs, but this band is real people making music and art in real time—and every show is different.
At the core of the band is its DIY ethic. The band has been writing and arranging all of its own material, designing and fabricating its own costumes and merchandise, developing its own choreography and managing itself from Day One. MarchFourth inspires dancing… when the audience can tear its eyes from the kaleidoscope of visual energy (and maybe even a crowd-surfing stilter) pouring from the stage. "Part New Orleans brass ensemble, part groove-heavy rock group, and part vaudevillian circus, this group unleashes such a technicolor experience that using the word 'concert' to describe their performance falls flat" (5820 Magazine). M4 provides the opportunity to come together in joyous union with a band whose mission is to seize the moment, bring communities together, and leave everyone feeling as if the world is a better place.
March Fourth Marching Band
Fox Theatre
Thursday, March 28th, 2013
Doors:  8:30 pm
Show Time:  9:00 pm