Just Announced: Smooth Money Gesture & Twiddle | 3/15/13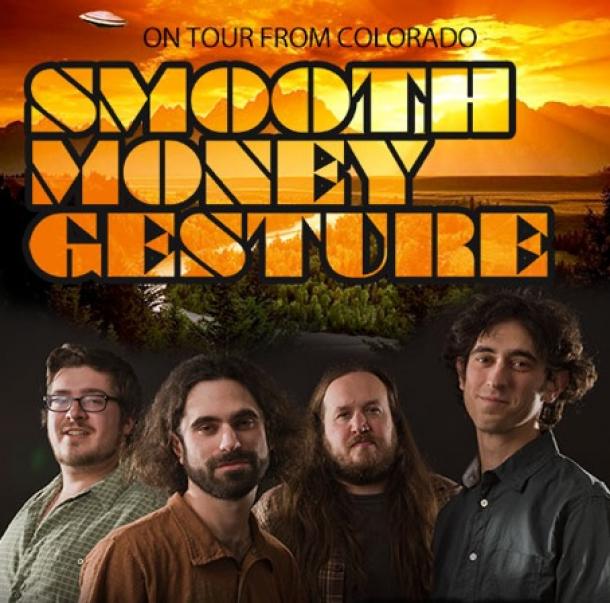 Z2 Entertainment is proud to present Smooth Money Gesture & Twiddle at the Fox Theatre on Friday March 15th.  Tickets go on sale Friday, November 16th for 10.00 in advance and $12.00 day of show.
Smooth Money Gesture
Smooth Money Gesture is the very essence of a modern American Rock and Roll band. Since the early 2000's, the band has been honing in on their sound, bringing their music from the East Coast to Alaska; finally landing in Nederland, Colorado where the band permanently resides. The quartet's sound is rooted in rock and roll with elements of funk, bluegrass, metal, and electronica producing a jam based high energy psychedelic creation all their own. With a variety of musical influences feeding the improvisational groove, and the majority of members contributing vocals and to songwriting, Smooth Money Gesture takes one on an adrenaline rich celebratory journey that never runs out of fuel. Playing over 100 shows in 15 states throughout the Mountain, Midwest, Northeast, and Southwest regions in 2012, SMG is proving that they are not just another garage band, but a major player in the US tour circuit. At the core of Smooth Money Gesture are the Diminico brothers. Doug Diminico plays guitar and sings alongside his brother Dan Diminico (bass guitar and vocals). On keys is Pete Goldberg, contributing a whole new dimension to Smooth Money's music with his energetic playing and gritty vocals. Cody Wales on drums and vocals keeps the band driving while adding a touch of polyrhythmic flare
Twiddle
Twiddle, a Vermont-based quartet, spins tall-tales over an intricate soundscape of Hi-def shred. They have started a frenzy on both coasts, composing complex arrangements that conjure up Coltrane, Ranglin, and Zappa.  Obliterating the laws of improvisation, Twiddle delivers spectacular climaxes, defiantly weaves through genres, and never fails to leave a crowd lusting for more. It is three-dimensional music. You can see it from all sides, and even serve it to your guests.  It's Twiddle. Tasty.
Smooth Money Gesture & Twiddle
Fox Theatre
Friday, March 15th, 2013
Doors:  8:30 pm
Show Time:  9:00 pm