Kendall Beard Releases Debut Album, 'All Around Girl' Sept. 17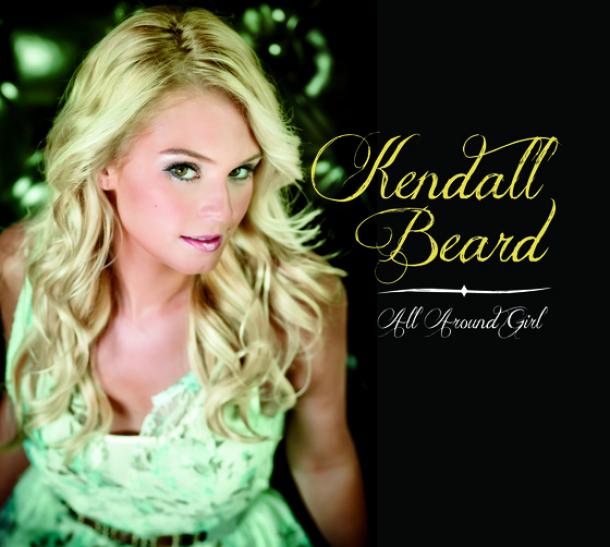 Kendall Beard fell in love with singing as a child, and begged her parents until they finally agreed to let her make her professional debut at the Houston Livestock Show and Rodeo. But now she's all grown up and riding toward bigger horizons with ALL AROUND GIRL, her debut album on VMG, set for release Sept. 17.
Produced by AJ Vallejo, ALL AROUND GIRL showcases Beard's unique style of soul-influenced, rock-sprinkled Texas country. Raised in a small East Texas town on a diet of Muscle Shoals and Louisiana sounds, supplemented by powerhouse females from Sheryl Crow to fellow Texan Miranda Lambert, Beard can belt with the best of 'em. She proves it on tracks such as the funky "Run Back to You" and the upbeat "Drinkin'" — which sounds party-ready, but carries caution, too. She's equally adept at introspective ballads, like "Give You the World" and the album closer, "Part of Me." 
Beard co-wrote these tracks with brothers AJ and Alex Vallejo. The Latin rockers perform on the album along with other top Austinites including steel guitarist Geoff Queen and string virtuoso Haydn Vitera. But it's Beard who's front and center, delivering what she calls "a vocal documentary of my life over the past five years." 
Recruited at 15 by members of Boyz II Men for Sahara Lane, a girl group they helmed, she sang with that trio for three years, then headed to the University of Texas for her communications degree. But her musical passion still burned, so she auditioned for season 8 of  "American Idol," making it to the top 36 and performing several times for TV audiences. Beard also may be known to TV viewers from her time as "the face of CW Austin," during which she served as spokeswoman and made special appearances for the CW Network's Austin affiliate.
But for now, she's concentrating on showing the world what an ALL AROUND GIRL can do when she combines talent and determination — in fact, she spells it right out on the first track: "Can't Hold Me Down." 
"Every song is personal," Beard says. "I honestly feel very exposed. But that's OK, because I believe that the best music comes from speaking the truth."
Upcoming Texas shows:
Sept. 11 – Drunken Mule, Commerce
Sept. 19 – Rattle Inn, Austin
Oct. 4 – Coach Joe's Hat Tricks, Lewisville
Oct. 12 – Pineywoods Cattle Baron's Gala (VIP reception), Lufkin