Kermit Ruffins Announces We Partyin' Traditional Style! Out May 28th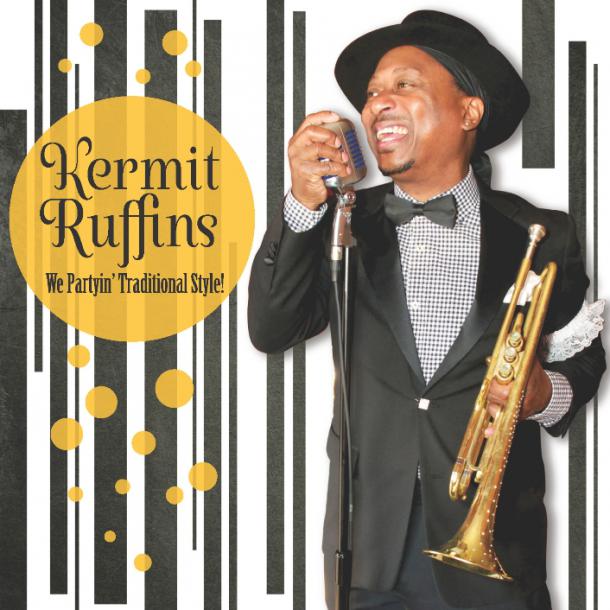 No one lives, breathes, and eats up New Orleans like Kermit Ruffins. The Bar-B-Q slinging trumpeter and vocalist is bringing us back to the early 20th century with the track "Treme Second Line" which premiered on Paste TODAY.
An intriguing collection of traditional and New Orleans jazz classics, Ruffins' new album We Partyin' Traditional Style! (out May 28 via Basin Street Records) gives a glimpse of the influences that have inspired Ruffins since his days as youthful street busker.
The King of Treme pulls classics from the 20th century and puts them through the good-times grinder both reinventing and honoring the tradition of music ever present in his beloved Big Easy. He doesn't do it alone, either. Ruffins hand-picked the finest in traditional jazz to form a deeply rooted band: Shannon Powell (drums), Steve Pistorius (piano), Richard Moten (bass), Don Vappie (banjo), Lucien Barbarin (trombone), and Tom Fischer (clarinet). Mykia Jovan joins Kermit for a delightful duet on the Gerald Marks and Seymour Simons hit "All Of Me."
Sit back, relax, and enjoy the sounds of timeless classics like "Careless Love" and "I Guess I'll Get the Papers and Go Home." Then lace up your tap shoes, grab a dancing partner, and try to keep your balance while you Charleston to "Jeepers Creepers." The dancing shifts to a waltz with "Over The Waves," the Juventino Rosas classic. And a traditional jazz album would not be complete without a hat-tip to the most important figure of the era, Louis Armstrong. Ruffins boasts his own raspy voice and pays tribute this idol with "When It's Sleepy Time Down South," a song frequently regarded as Satchmo's own theme song.
We Partyin' Traditional Style! triumphantly closes with the immemorial "When the Saints Go Marching In," a song that needs no introduction and a recording that will undoubtedly have people around the world second-lining in the streets.
Kermit Ruffins gracefully channels the glory of New Orleans and opens a door to a rich history of musical heritage for all who listen. But if you ask him he'll just tell you,
"We Partyin'!"
Upcoming Shows:
4.13 - French Quarter Fest – New Orleans, LA – 2:15 pm
4.26 – Little Gem Saloon – New Orleans, LA – 9:00 pm
4.27 – Mid-City Lanes Rock 'n Bowl – 9:00 pm
4.28 – New Orleans Jazz & Heritage Festival (Blues Tent) – 4:20 pm
5.1 – Louisiana Music Factory – New Orleans, LA – 12:00 pm
5.1 – House of Blues – New Orleans, LA – 9:00 pm
5.3 – Little Gem Saloon – New Orleans, LA – 9:00 pm
5.4 - Mid-City Lanes Rock 'n Bowl – 9:00 pm
 
Kermit usually plays these regular weekly shows (unless otherwise noted):
Thursdays - Vaughan's Lounge – New Orleans, LA – 8:00 pm
Fridays – Blue Nile – New Orleans, LA – 7:00 pm
Sundays & Mondays – Kermit's Treme Speakeasy – New Orleans, LA – 6:00 pm
Tuesdays – Bullet's Sports Bar – New Orleans, LA – 6:00 pm