Kermit Ruffins Releasing Happy Talk, Playing BAM, Voodoo, Fallon!
Submitted by mike on Tue, 10/19/2010 - 23:24
Leading up to the release of his latest album, Happy Talk on October 26, Kermit Ruffins is happy to announce that he will be performing at The Brooklyn Academy of Music's Red Hot + New Orleans in New York on December 3rd and 4th. A part of BAM's Next Wave Festival, Kermit will be joined by New Orleans contemporaries Trombone Shorty, Dr. John, Ledisi, Marc Broussard, Partners-N-Crimes, and Irma Thomas to show off the best the city has to offer — from second-line stomps to the raucous energy of bounce. Following the performance, Kermit will also join ?uestlove and The Roots on December 7th on "Late Night with Jimmy Fallon." And later this month, Kermit will be representing his hometown at New Orleans' Voodoo Festival. Performing on Saturday Oct. 30th at 5 p.m., Kermit will be joined by Dr. Michael White, Jeremy Davenport, Jason Marsalis, David Pulphus, and Victor Atkins as a part of Basin Street Records' All-Star Revue. And to add to all this, the first round of 2010 GRAMMY® ballots have been released and Kermit Ruffins' Have A Crazy Cool Christmas has been entered in a number of categories.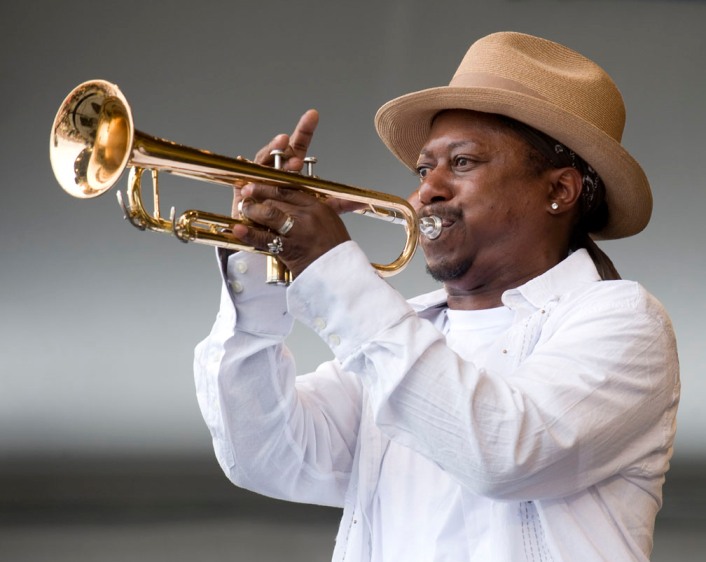 All this leads up to the release of Kermit's latest album, Happy Talk. Produced by GRAMMY® Award Winner Tracey Freeman (Harry Connick, Jr., Jeremy Davenport), Happy Talk is Kermit's first collection of big band music. And to celebrate the release of the record, Kermit has scheduled an album Release Party for November 5that Rock & Bowl in New Orleans with a big band.
It's hard to think of how anyone wouldn't benefit from a little bit more of Kermit's perennially positive attitude, his iconic take on New Orleans jazz, and his delicious BBQ — which he still serves after his weekly shows in New Orleans, by the way. And with the exposure Kermit has received with David Simon's "Tremé," Kermit has gone from New Orleans' legendary native son to America's new favorite jazzman.
For Kermit, Happy Talk has been a long time coming. Throughout his career, he has made no secret of his love of big band music and his admiration for legendary bandleaders like Dizzy Gillespie, Duke Ellington, Lionel Hampton and Count Basie. As the bandleader, lead vocalist and trumpeter on the new album, Kermit has taken the big band sound and given it his own "Kermit swing." There's his rousing take of Sam Cooke's classic "Ain't That (Good News)" and "If I Only Had A Brain," which Kermit infuses with a healthy dose of Latin spice. The album also pays tribute to Kermit's musical inspiration, Louis Armstrong, with versions of songs that Armstrong made famous including "Hey Look Me Over," "La Vie En Rose," and "Shine." Kermit also leads his band through his own swingin' originals like "I Got A Tremé Woman" and "New Orleans (My Home Town)."
Kermit was born with the music in his blood. Growing up, Kermit used to skip lunch and perform second line music for his classmates before the principal would shut him and his friends down. In 1982, Kermit founded The Rebirth Brass Band with his high school classmate and tuba player Philip Frazier in Tremé, LA. The band took off after their legendary first performance at Jazz Fest and quickly became one of the most beloved brass bands in New Orleans and the United States. In 1992, Kermit founded the Barbecue Swingers, his traditional jazz quintet. Their weekly performances at Vaughan's Lounge for 17 years and Bullet's Sports Bar since Katrina have become staple New Orleans events, with Kermit tailgating his shows by serving up that legendary barbecue!
When David Simon decided to follow up "The Wire" with "Tremé," he approached Kermit to have him appear on the show. As Simon put it, "There wasn't any use in casting someone else. Only Kermit can play Kermit." Truer words could not have been spoken.