Kettle Joe's Psychedelic Swamp Revue Rex Fundraiser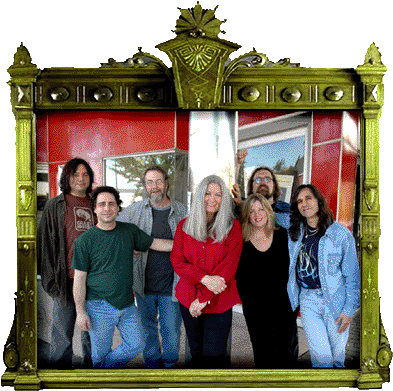 The Grateful Dead's Donna Jean Godchaux-MacKay, Mookie Siegel of the David Nelson Band (and formerly a member of both Phil & Friends and Ratdog), Wendy Lanter of Hope in Time, and Jeff Mattson, Tom Circosta, Klyph Black and Dave Diamond, all of the The Zen Tricksters, now create music together as Kettle Joe's Psychedelic Swamp Revue. Thrilling and surprising audiences with a unique mix that spans a variety of musical genres, Kettle Joe's showcases both the extraordinary musicianship and amazing songwriting craft of its members. The band displays astonishing mastery of "the jam," and possesses uncommon vocal prowess. All seven band members sing well, and they achieve deeply rich textures and harmonies throughout their repertoire. These incredible and highly regarded musicians have made Kettle Joe's their full-time musical vehicle, and continue to perform a growing catalog of original material, contributed (and increasingly co-written) by its various members, along with some truly choice covers.
Donna Jean recently said she is "thrilled and honored to be creating and performing music with such an immensely talented group of artists.  This is my dream come true, and I think we'll be doing this for a long time to come. It's just way too much fun not to!"
DATE OF SHOW: DECEMBER 29, 2006
Whitaker Center For Science & The Arts, Sunoco Theater
301 Market St Fl 7, Harrisburg, PA
Tel: (717) 221-8201
TICKETS:
Concert tickets are $25.00 and $1.00 of every ticket will be donated by 4Evergreen to the Rex Foundation. Tickets are available online.
MEET & GREET:
Purchase on day of show the CD of the November 12, 2005 Rex Foundation Black Tie-Dye Ball, produced by members if the band, and you can be part of a pre-show meet and greet with the band, with a signing of the CD. CD's are $20.00 and all the proceeds of the CD sales go to REX. -Sorry, due to time limitations, no other signing will be permitted-
The Rex BTDB CD is also available online.
The Rex Foundation, a not-for-profit charitable organization established in 1983 by friends and members of the Grateful Dead, has been aiding in building stronger communities, promoting individuality in the arts, helping secure a more healthy environment, and protecting the rights of indigenous people for twenty-two years.  The first Grateful Dead Rex benefit concert was held in the spring of 1984.  Over the course of the next 11 years, the Rex Foundation granted over $7 million to some 900 programs.  In December 2001, the Rex Foundation launched its renewal efforts in the absence of direct Grateful Dead concert funding, presenting fundraising events in the Bay Area and in other cities across the country, and has since granted $776,500 to 127 programs across in the United States and internationally.