"Kickin' Up Dust" w/ Slightly Stoopid & Atmosphere + Budos Band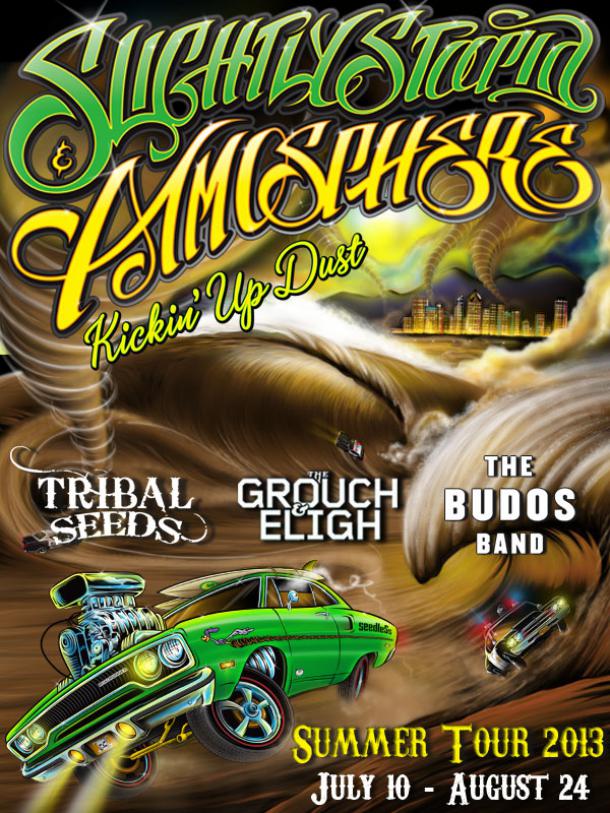 Slightly Stoopid and Atmosphere are joining forces for one of the most anticipated summer tours of 2013. "Kickin' Up Dust" Summer Tour 2013 features special guests The Budos Band, The Grouch & Eligh, and Tribal Seeds. The 28 show journey "Kickin' Up Dust" hits outdoor amphitheatres across the country starting on July 10, 2013 when the tour lands in Albuquerque, NM at the Sandia Amphitheatre and continues until August 23, 2013 when it rolls through Cocoa Beach, FL at the Cocoa Riverfront Park. Interviews and photos of Slightly Stoopid and Atmosphere are available upon request.
A summer tradition for thousands of "die-hard" fans known across the nation as "Stoopidheads," Slightly Stoopid's 7th annual summer tour continues the seasonal ritual with some of music's most lauded artists; past year's have included artists such as Snoop Dogg, Stephen Marley, G. Love & Special Sauce, Cypress Hill, Sly & Robbie, and Ozomatli. For the "Kickin' Up Dust" Summer Tour 2013, Stoopid enlists the renowned Minneapolis hip-hop collective, Atmosphere, supported by the heavy-hitting horns and funky rhythms of NYC's The Budos Band (Daptone), notoriously savvy Bay Area Living Legends MCs The Grouch & Eligh, and rising San Diego local Tribal Seeds. This dynamic lineup is guaranteed to create a trailblazing summer soundtrack, and a noteworthy rite of passage and tradition for summertime concert-goers across the country.
Celebrated hip-hop act Atmosphere have released seven studio albums and ten EPs over their career, including the chart-topping album, When Life Gives You Lemons, You Paint That Shit Gold, which reached #5 on Billboard's Top 200 chart. Rapper Slug (Sean Daley) and DJ/Producer Ant (Anthony Davis), tour in support of their latest album, The Family Sign. The group's most personal and intimate album to date, it is a tribute to the band's extended family, friendships and each other. With an expanding catalogue of instrumental-laced beats and well-versed rhymes, the Mid-West duo has earned critical acclaim for their undeniable artistry.
MC compatriots The Grouch & Eligh complement the "Kickin' Up Dust" tour with a distinctly crisp Bay Area style. Not only are their custom-made beats unrivaled, their uplifting rhymes breakdown conventional standards. Each at the top of their game with successful solo careers, The Grouch & Eligh are hip-hop savants with a West Coast conscious approach and dynamic lyricism that serves to educate and elevate. The duo recently appeared onstage with Pretty Lights at Red Rocks Amphitheatre, and have two collaborations and a new video entitled "All These Lights" with Pretty Lights on their forthcoming album.
Audiences are guaranteed to get down in the summer heat with San Diego's Tribal Seeds. Their humble soul-fueled, Cali style is infused throughout their latest album, Soundwaves, which landed at #2 on the Billboard Reggae Charts.
Also joining the tour (on East Coast dates) are NYC afro-soul instrumentalists, The Budos Band. The 10-member collective uses high-energy horns, deep funky bass-lines and sultry rhythm sections to get crowds irresistibly sweaty and dancing 'til they drop. The Budos Band tours in support of their latest Daptone Records release, The Budos Band III. The Budos Band will also appear alongside Primus in select markets this spring.
The "Kickin' Up Dust" tour comes on the heels of Slightly Stoopid's hugely successful album, Top Of The World, and the release of the new live album recorded at Bob Weir's TRI Studios, Slightly Stoopid & Friends: Live at Roberto's TRI Studios. Detailed info on these two albums is available at SlightlyStoopid.com.
"Kickin' Up Dust" hits major West Coast, Midwest, East Coast, and Southern cities throughout July & August 2013. Please see the confirmed tour dates listed below - all additional dates will be announced soon. Tickets go on sale to the public beginning April 20 at SlightlyStoopid.com.
"Kickin' Up Dust" Summer Tour 2013:
July 10, 2013 - Albuquerque, NM - Sandia Amphitheatre
July 11, 2013 - Phoenix, AZ - Mesa Amphitheatre
July 12, 2013 - Irvine, CA - Verizon Wireless Amphitheatre
July 13, 2013 - Las Vegas, NV - Boulevard Pool at The Cosmopolitan of Las Vegas
July 14, 2013 - Santa Barbara, CA - Santa Barbara Bowl
July 18, 2013 - Stateline, NV - Montbleu Outdoor Stage
July 19, 2013 - Berkeley, CA - Greek Theatre
July 20, 2013 - Chula Vista, CA - Sleep Train Amphitheater
July 24, 2013 - Eugene, OR - Cuthbert Amphitheatre
July 25, 2013 - Boise, ID - Idaho Center Amphitheater
July 26, 2013 - Missoula, MT - Big Sky Brewery
July 27, 2013 - Salt Lake City, UT - The Great Salt Air
August 1, 2013 - Tulsa, OK - Cain's Ballroom
August 2, 2013 - Kansas City, MO - Crossroads
August 3, 2013 - Council Bluffs, IA - Stir Cove
August 4, 2013 - Des Moines, IA - Simon Estes Amphitheater
August 8, 2013 - Boston, MA - Bank of America Pavilion
August 9, 2013 - Asbury Park, NJ - Stone Pony Summer Stage
August 10, 2013 - Philadelphia, PA - Festival Pier @ Penn's Landing
August 11, 2013 - Baltimore, MD - Pier Six Pavilion
August 14, 2013 - Richmond, VA - Pocahontas State Park
August 15, 2013 - Myrtle Beach, SC - House of Blues
August 16, 2013 - Raleigh, NC - Red Hat Amphitheater
August 17, 2013 - Charlotte, NC - Time Warner Cable Uptown Amphitheatre
August 21, 2013 - Atlanta, GA - The Tabernacle
August 22, 2013 - St. Augustine, FL - St. Augustine Amphitheatre
August 23, 2013 - Cocoa Beach, FL - Cocoa Riverfront Park