King Sunny Ade and His African Beats @ Boulder Theater
Submitted by mike on Wed, 01/13/2010 - 07:01
King Sunny Ade is the undisputed king of juju music, the dance-inspiring hybrid of western pop and traditional African music with roots in the guitar tradition of Nigeria. For 30 years King Sunny Ade has been thrilling audiences and listeners with dynamic live performances creative videos and innovative recordings.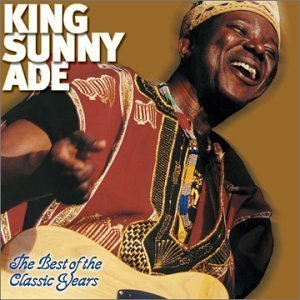 In 1982, Island Records signed Adé for Europe and North America (promoting him as 'the African Bob Marley'). The three albums were - Juju Music, Synchro System and Aura. When the artist and the label ultimately disagreed on the artist's future artistic direction, they parted ways amicably. For almost ten years, King Sunny Adé continued to release records and dominate the domestic music industry in Nigeria, while only vinyl imports trickled out to the rest of the world.In 1996 Adé signed a new deal with Atlantic Records subsidiary, Mesa/Bluemoon under which he released three records. E Dide / Get Up. Odu, and Seven Degrees North.
In January 2002, Ade completed a four year term as President of The Performing Musicians Assoc. of Nigeria (the national musicians union) Still performing weekly at a wide variety of parties and events, both public and private, King Sunny Adé intends to use his newly recaptured free time to focus on his music. With 111 albums to his credit already in Nigeria, African music fans can surely look forward to more great things to come. Juju Music Juju music is a music of broad social messages. Rooted in the ancient Yoruba tradition of conveying broad social and cultural messages. Musically it is a thrilling hybrid of Western pop and traditional African music that incorporates electric guitars and synthesisers with such indigenous instruments as talking drums.
King Sunny Ade and The African Beats tour with the typically large African line-up of 20-30 members. They play a spacey, jamming sort of Juju, characterized by tight vocal harmonies, intricate guitar work, backed by traditional talking drums, percussion instruments, and even adding the unusual pedal steel guitar and accordian.
King Sunny Ade and His African Beats
Friday, April 30
doors 7:00pm, show 8:00pm
-
Tickets are on sale Ja 22 at The Boulder Theater Box Office. Call (303) 786-7030 for tickets by phone. Tickets will also be also available through our website @ www.bouldertheater.com. All tickets are subject to tax and service charge