Krishna Das Kicks Off US Tour TODAY
Submitted by mike on Thu, 03/25/2010 - 05:23
Called the "Chant Master of American Yoga" by the New York Times, Krishna Das has recently released Heart As Wide As The World, his first studio album in ten years, this month. The album is a collaboration with David Nichtern ("Midnight at the Oasis") who produced and played guitar. Jerry Marotta (Hall & Oates, Peter Gabriel) on drums, percussion.  As well as, world musicians Steve Gorn on bansuri flute and Benjy Wertheimer on esraj, amongst an array of other instruments.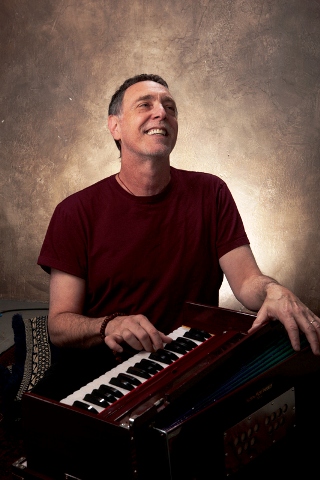 Layering traditional Hindu kirtan with instantly accessible melodies and modern instrumentation, Krishna Das has been called yoga's "rock star."  With a remarkably soulful voice that touches the deepest chord in even the most casual listener, Krishna Das – known to friends, family, and fans as simply KD – has taken the call-and-response chanting out of yoga centers and into concert halls, becoming a worldwide icon and the best-selling chant artist of all time, with over 300,000 records sold.  His first studio recording in a decade, "HEART AS WIDE AS THE WORLD" invests KD's magnetic chanting with an electrifying rock 'n' roll sensibility informed by a lifetime of experience and musical love.
Krishna Das has been recording his popular and much-loved albums of kirtan since 1996. Having made numerous pilgrimages to India throughout his career and meeting teachers of many spiritual traditions, Krishna Das follows the path of Bhakti yoga – the yoga of devotion – and brings a lifetime of spirituality into his music. Over the years, his collaborators in the studio have included Rick Rubin on Door of Faith, Sting on Pilgrim Heart and Mike D in a 50-person kirtan choir on Breath of the Heart, also produced by Rubin.
Krishna Das has toured extensively through North America, Europe, Asia, Australia and South America, and counts Madonna and Mike D of the Beastie Boys amongst his fans. Krishna Das will be touring this spring with Deva Premal & Miten, dubbed "The Johnny and June Carter Cash of chant" by Yoga Journal . Together they are creating an extraordinary series of concerts across the US, highlighting the newfound popularity of kirtan and mantra chanting. These musicians, who have enjoyed a worldwide grassroots success the past decade, are each celebrating the release of new albums with their first co-headlined tour.
Krishna Das LIVE with Dava Premal & Miten:
03/24    Seattle - Moore Theatre 
03/25    Portland - Crystal Ballroom
03/27  Los Angeles - Wilshire Ebell
03/28   San Francisco - Warfield Theater
03/30    Phoenix - Mesa Arts Center
03/31    Tucson - Rialto Theatre
04/01     Santa Fe - Lensic Theatre
04/03     Denver  - Paramount Theatre
04/05     Dallas - Unity Church
04/07     Atlanta - Variety playhouse
04/08   Washington, DC - Bethesda Theatre
04/09     Philadelphia - Keswick Theatre
04/12  Chicago North Shore Center for the Performing Arts
04/14    Boston - Somerville Theater
04/15    New York - Webster Hall