Lady Antebellum Reveals New Album Details!
Submitted by mike on Mon, 07/18/2011 - 23:10
Multi-PLATINUM country music group Lady Antebellum is sharing new details today on their forthcoming third Capitol Nashville studio album OWN THE NIGHT, in stores Sept. 13.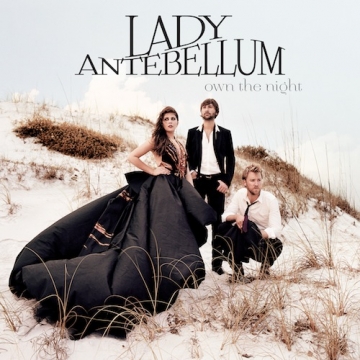 After sweeping the 2011 GRAMMY Awards earlier this year, the singer/songwriters returned to Nashville to focus on writing and recording the follow up to their top selling NEED YOU NOW.  The trio penned 10 of the new disc's 12 tracks, including their fastest rising and current Top 10 single "Just A Kiss."  Collaborating again with veteran producer Paul Worley, Lady Antebellum's Dave Haywood, Charles Kelley and Hillary Scott also return as co-producers.
"We're definitely more in tune with each other musically and personally than ever," said Haywood. "It's an exciting place to be. This album was created from the ground up—we are writing these songs, playing these instruments and creating these arrangements.  With OWN THE NIGHT, more than ever before, I think we share a real feeling of accomplishment both as a band and as friends."
"Our only hope and expectation for this record is that it will build on the first two," adds Charles Kelley.  "At the end of the day, we just want our fans to be able to say that we continue to give them solid albums with solid songs they can enjoy from start to finish."
--
OWN THE NIGHT
Track List:
1. We Owned The Night
2. Just A Kiss
3. Dancin' Away With My Heart
4. Friday Night
5. When You Were Mine
6. Cold As Stone
7. Singing Me Home
8. Wanted You More
9. As You Turn Away
10. The Love I've Found In You
11. Somewhere Love Remains
12. The Heart Of The World