Lady Antebellum Wraps American Tour with Attendance Milestone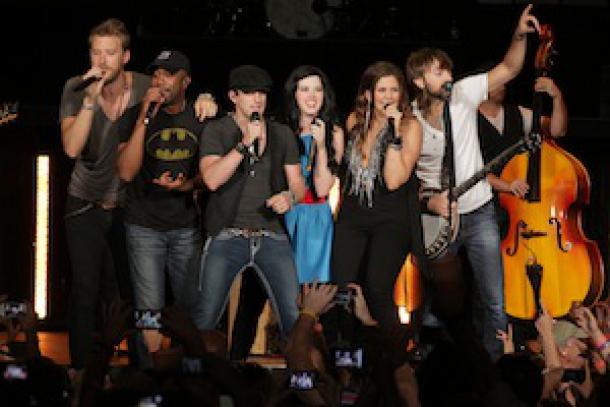 As the North American leg of Lady Antebellum's headlining OWN THE NIGHT WORLD TOUR sponsored by GAC with special guests Darius Rucker and Thompson Square comes to a close, the 85 city run that has incited fan hysteria and massive critical acclaim also marks an attendance milestone with over one million fans as they continue into Europe and Australia this summer.
"I remember how exciting and special it was to hear we sold out the first weekend of the tour back in the Fall," said Charles Kelley.  "I seriously had no idea that so many others would follow, especially places like LA and Chicago, or that we would be sitting here eight months later saying we played to a million fans.  It doesn't even register."
"What I love is the connection we made with all of those fans," added Hillary Scott.  "It truly felt like we got to know everyone in the arena every night, which was one of our biggest goals when we started brainstorming on a paper plate last summer in Lake Tahoe.  We invited fans up on stage most nights and just tried to get as close as possible to them…it was one giant sing-along each night.   As a songwriter, it's so cool to hear the lyrics you wrote with your best friends in the back of a bus echoing back to you by so many people."
"We've definitely become closer as a band – musically and personally – over this tour too," noted Dave Haywood. "We are really proud of our show and how much we've grown on stage.  Moments like selling out two nights in our hometown of Augusta, GA with all our friends and family around are really going to make us miss being on the road this Fall, but we're looking forward to working on new music and getting back into the studio."
A tour concept that started with a simple production sketch on a paper plate, the OWN THE NIGHT WORLD TOUR kicked off in Knoxville, TN on 11/11/11 with an entourage of more than 100 people in 10 buses and eight trucks who travelled more than 46,000 miles across the continent, hitting arenas and amphitheatres in 34 states and six Canadian provinces. Along the way, the trio has earned praise from critics for their spirited live show and proved that Lady Antebellum has long-term staying power as one of the biggest touring groups in country music.