Lady Antebellum's WORLD TOUR Marks 750K Tickets Sold!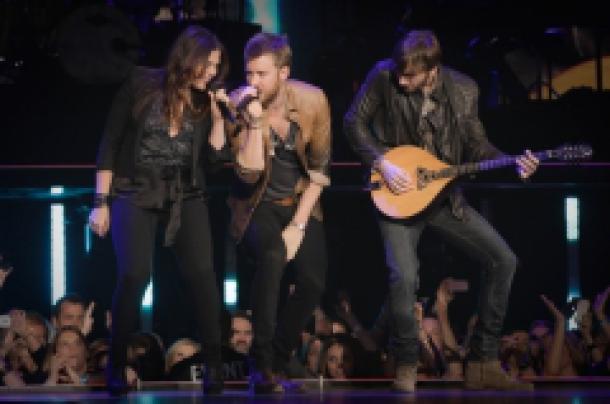 ACM and CMA Vocal Group of the Year Lady Antebellum has officially sold over 750,000 tickets at the halfway point of their OWN THE NIGHT WORLD TOUR.
"This tour has exceeded our expectations in every way," said Lady A's Dave Haywood.  "Every day is new and exciting…I really don't ever think the feeling of being a headliner will get old.  We can't wait to keep it rocking into summer and across the Atlantic and Pacific later this year."
The Dallas Morning News called the show "riveting" and other major market newspapers are chiming in with similar remarks.
"The performance erased all doubts that the act's seemingly meteoric ascendance to the top of the contemporary country world is undeserved….its celebrated vocal harmonies were terrific." - Kansas City Star
"Impeccably choreographed, strategically paced and charmingly polite, the 80-minute show revealed the group learned students of both proven stadium traditions and crossover devices." – Chicago Tribune
"Hot-selling country headliner Lady Antebellum lived up to the promise of its early hit 'Lookin' for a Good Time' Tuesday night at KeyArena, offering more than three hours of high-energy, hand-clapping music." – Seattle Times
"In front of a sold-out crowd of about 13,500, the trio delivered a polished, professional performance, making a solid debut as a headlining arena attraction…any lingering suspicions that country group Lady Antebellum is just another one-hit wonder were vanquished Sunday night at Target Center."  - St. Paul Pioneer Press
"The most telling aspect of the concert was the band's intimate, close-knit harmonies – and the ease with which their voices fit together. Charles Kelley and Scott have the kind of chemistry that singers yearn for entire lifetimes." – Denver Post
Lady A's GRAMMY winning third release OWN THE NIGHT also leads 2012's first quarter country album sales after debuting at the No. one position on Billboard's Country Albums chart in Sept. The PLATINUM certified disc has already earned two No. one hits at country radio "We Owned the Night" and "Just A Kiss," while it's current single "Dancin' Away With My Heart" climbs through the Top 5 this week
The trio is prepping for the summer leg of their OWN THE NIGHT 2012 WORLD TOUR that picks back up in New York City on May 3 and 4 for sold out shows at Radio City Music Hall, with additional upcoming dates scheduled in the US, Canada and Europe. For more information and for a full list of upcoming tour dates, visit www.ladyantebellum.com