Ladysmith Black Mambazo Bring Vocal Serenity, Song & Humor on Tour
Submitted by mike on Fri, 12/17/2010 - 23:57
Ladysmith Black Mambazo kick off their North American tour on January 18 in Oakland, CA, blending their iconic, moving harmonies with high-energy toe-touches and audience sing-alongs.  The tour will make stops in over 40 major markets across the US and Canada (including Hawaii) in just two months.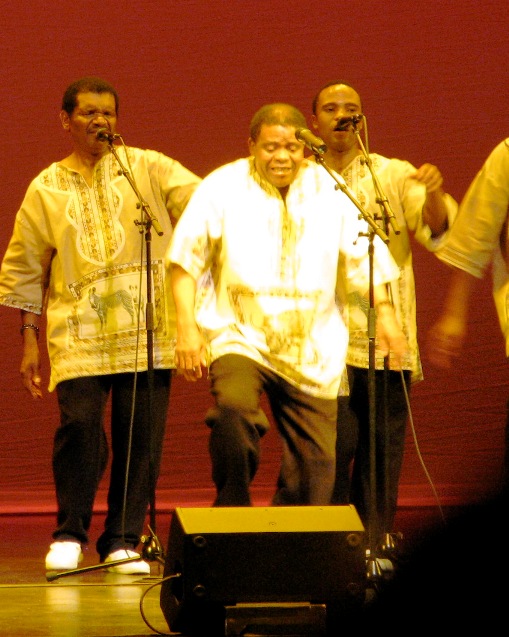 From the stage, Mambazo's nine-man a cappella team will transport concert-goers to the open fields and idyllic world of their youth in South Africa's Zulu country, singing the traditional South African folk tunes from their forthcoming album 'Songs From A Zulu Farm' (out February 1 from Listen 2 Entertainment Group/ Razor & Tie Entertainment) as well as selections from their nearly 50 year career.
These songs speak to the universal joys of childhood. "Whether you are in Ladysmith, Virginia, or Ladysmith, South Africa," says Ladysmith Black Mambazo founder and frontman Joseph Shabalala, "children are hearing songs they will carry with them for the rest of their lives and share with their own children. We hope that these songs sung to South African children can be enjoyed by families in many other places in the world."
Listen to the entire CD here.  | Read some Grateful Web coverage of Ladysmith Black Mambazo.
Upcoming Ladysmith Black Mambazo tour dates:

Tue Jan 18 - Oakland, CA - Yoshi's
Wed Jan 19 - Oakland, CA - Yoshi's
Fri Jan 21 - Sacramento, CA - Crest Theater
Sat Jan 22 - San Luis Obispo, CA - Cal Poly State
Sun Jan 23 - Campbell, CA - Heritage Theater
Tue Jan 25 - Maui, HI - Maui Arts Center
Wed Jan 26 - Kamuela, HI - Kahilu Theater
Thu Jan 27 - Laie, HI - Brigham Young University
Fri Jan 28 - Honolulu, HI – TBA
Sun Jan 30 - Clarksdale, MS -The Pinnacle
Tue Feb 1 - Baton Rouge, LA - Manship Theater
Wed Feb 2 - Baton Rouge, LA - Manship Theater
Thu Feb 3 - Austin, TX - One World Theater
Fri Feb 4 - Houston, TX - Jones Hall
Sun Feb 6 - El Paso, TX - El Paso Civic Center
Fri Feb 11 - Aspen, CO - Wheeler Opera House
Sat Feb 12 -  Boulder, CO - University Of Boulder
Tue Feb 15 -  Salina, KS - Stiefel Theatre
Thu Feb 17 -  Minneapolis, MN - Minnesota Opera
Fri Feb 18 - Riverside, IA - University of Iowa
Sat Feb 19 - Chicago, IL - Old Town School of Music
Sun Feb 20 - Interlochen, MI - Interlochen Center for the Arts
Tue Feb  22 - Chatham, ON - Capitol Theatre
Wed Feb 23 - St. Catharine's, ON - Brock University
Thu Feb 24 - Kingston, ON - Grand Theatre
Fri Feb 25 - Toronto, ON - Roy Thompson Hall
Sat Feb 26 - Rochester, NY - Nazareth College
Sun Feb 27 - Hillside, NJ - Kean University
Tue Mar 1 - Annapolis, MD - Ram's Head
Thu Mar 3 - Tarrytown, NY - Music Hall
Fri Mar 4 - Portsmouth, NH - Music Hall
Sat Mar 5 - Orono, ME - University of Maine
Sun Mar 6 - New London, CT - Garde Arts Center
Tue Mar 8 - Annapolis, MD - Ram's Head
Thu Mar 10 - Washington, DC - George Washington University
Fri Mar 11 - Durham, NC - Carolina Theater
Sat Mar 12 - Atlanta, GA - Georgia State University
Fri Mar 18 - Philadelphia, PA - Zellerbach Theater
Sat Mar 19 - Brooklyn, NY - Brooklyn Center for the Performing Arts
Sun Mar 20 - Cambridge, MA - Sanders Auditorium