Ladysmith Black Mambazo Keep the Music of their Childhood Alive
Submitted by mike on Tue, 11/16/2010 - 23:13
The centuries-old story of their country and culture has been the foundation of the a cappella singing group Ladysmith Black Mambazo since its beginnings, almost fifty years ago. On 'Songs From A Zulu Farm,' out January 25, 2011 (Listen 2 Entertainment Group), the nine-man group returns to their origins in the open fields of Zulu country to recreate the idyllic world in which they once lived by singing traditional folk tunes sung by mothers and fathers to children throughout the generations.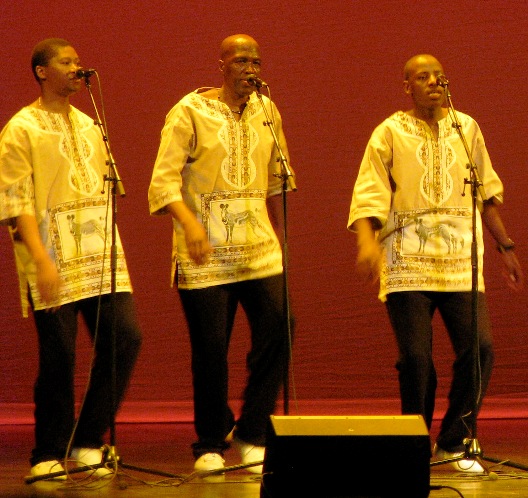 "These are songs from the earliest time in our lives," says Ladysmith Black Mambazo founder and frontman Joseph Shabalala. "When we sing these songs, we're singing from our personal history. It is such a joy for us to put these stories and songs together for our fans to enjoy too."
'Songs From A Zulu Farm' speaks to the universal joys of childhood. "Whether you are in Ladysmith, Virginia, or Ladysmith, South Africa, children are hearing songs they will carry with them for the rest of their lives and share with their own children," Shabalala says. "We hope that these songs sung to South African children can be enjoyed by families in many other places in the world."
Among the 16 tracks on 'Songs From A Zulu Farm' is "Old McDonald… Zulu Style," the classic children's song reworked in ways never before imagined as it's piped through the language and culture of the Zulu people.
Listen to "Old MacDonald" here.
Shabalala professes his love and longing for the times and places of his youth in "Thalaza," a song he composed to encourage Zulus – and people of every nation and culture – to reconnect to the innocence of their younger years. "Your roots are who you are," says Shabalala, who revisits the farmland of his youth every month. "I go home to see the sights I've known since I was a baby. When I see a field there, I see my father and mother standing with me as a little boy. I love going home because it is just that…home."
Check out some Grateful Web coverage of Ladysmith Black Mambazo.