Legendary Benny Golson at Trumpets Sunday 5/15/11
Submitted by press on Mon, 05/09/2011 - 20:40
Benny Golson will perform two sets with special guest Vitali Imereli on Violin, Matt King on Piano, Eliot Zigmund on Drums and Rick Crane on Bass.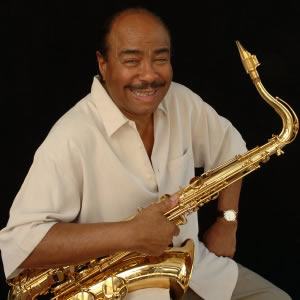 Benny Golson has not played around NY for at least 10 years. This exclusive engagement in the area is therefore particularly significant.
The legendary saxophonist had taken Vitali under his wing after hearing him play in a festival in Israel. Convinced, as he is that Vitali is the greastest jazz violinist who ever lived , he has encouraged him to pursue his international career with more ambition and determination.
When Benny suggested they do something together, Vitali asked his old friend Enrico Granafei to set something up at Trumpets.
Vitali met Harmonica/Guitar player Enrico Granafei at the Pori Jazz festival in Finland where both artists were performing, and since then they have been working together quite often.
Multitalented and internationally famous jazz legend, - a composer, arranger, lyricist, producer - and tenor saxophonist of world note, Benny Golson was born in Philadelphia, PA on January 25, 1929.
Raised with an impeccable musical pedigree, Golson has played in the bands of world famous Benny Goodman, Dizzy Gillespie, Lionel Hampton, Earl Bostic and Art Blakey.
Few jazz musicians can claim to be true innovators and even fewer can boast of a performing and recording career that literally redefines the term "jazz". Benny Golson has made major contributions to the world of jazz with such jazz standards as:
Killer Joe, I Remember Clifford, Along Came Betty, Stablemates
Whisper Not, Blues March, Five Spot After Dark, Are you Real?
Benny Golson is the only living jazz artist to have written 8 standards for jazz repertoire. These jazz standards have found their way into countless recordings internationally over the years and are still being recorded.
He has recorded over 30 albums for many recording companies in the United States and Europe under his own name and innumerable ones with other major artists. A prodigious writer, Golson has written well over 300 compositions.
Born In Kutaisi, Georgia, Vitali Imereli bega playing violin aa a talented five year- old at a music school, later completing his education in 1979 at the National Music Academy in Tblisi. During tht period 1079-85,Vitali acted as teacher at the Tblisi College of Music. From 1978 1881, he participated in a variety of jazz festivals in several locations from Georgia through Russia and Europe in general.
In 1992 Vitali moved to Finland. Performances then ranged from Sweden to Germany and various parts of Finland with TV appearances andradio programs following.
Vitali has played at the internationally renowned Pori jazz festival every year since 1991, as well as other important festivals in Finland. May 1996 saw the release of his new album " Tribute to Stephane Grappelli"
Vitali also performed with the Rosenberg Trio at the North Sea Jazz festival, and with many other important musicians like Jack Hana, Art Blakey, Michael Urbaniak, Ulf Johansson, Bob Gulloti , Gypsy kids, Daniel Walsh, Carlos Del Puerto, Didier Lockwood, Enrico Granafei, Stanley Jordan,Benny Golson etc
"Vitali Imereli masters the Grappelli sound to the extent that even the Maestro himself couldn't tell who was playing. This Gerorgian born violinist masters the modern style as well"
--
Legendary Benny Golson at Trumpets!
An exceptional concert will take place at Trumpets on Sunday  May 15.
Tickets are $40 in pre-sale and  $45 at the door. Two sets at 8:00 & 10:00 pm
Trumpets Jazz Club , 6 Depot Square, Montclair, NJ 07042. Phone 973-744-2600