Lenny Kravitz | Antwerp, Belgium | 10/30/2011
Submitted by kelly on Sun, 11/06/2011 - 09:11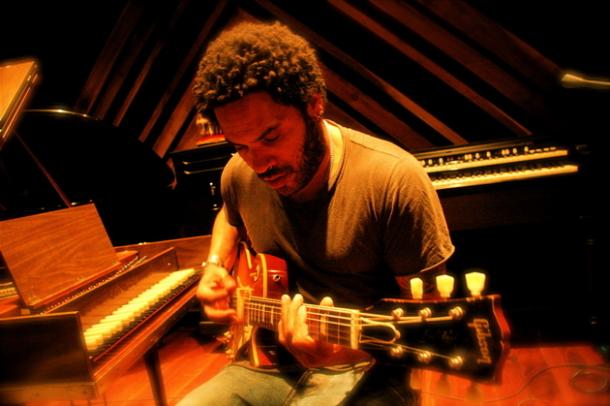 On October 30, I was one of the lucky ones to be in a sold out Sportpaleis for the concert of Lenny Kravitz. I don't think he needs an introduction, right? This time, he visited Belgium with his Black and White Tour.
The support act that night was Raphael Saadiq, an American singer, songwriter, and record producer, of which I never heard of before (shame on me). It was a good decision to program him as support act, although he could have given an amazing concert on his own as well! If you want to know more about him and check his tour dates, go to his website.
After one hour Raphael Saadiq and a half an hour break, it was time for Lenny Kravitz to perform. At both sides of the stage, there was a screen, not a square one like mostly is the case, but a triangular one which made it a little more unique. At the back of the stage, there was a big screen, in which the triangular form came back in the shape of a mountain with sharp peaks on which projections were shown (live, pictures,…).
He opened the concert with 'Come On Get It', a song from his new album Black and White America, according to critics the best album in 20 years. Three more other songs from this album were played that night: 'Black and White America' that was accompanied by pictures from him and his family on the big screen, 'Stand', and 'Rock Star City Life'. This means, there was plenty of time for older songs, such as 'Believe', 'It Ain't Over 'Til It's Over', 'Fields Of Joy', 'Always On The Run', 'Mr. Cab Driver', 'American Woman', 'Fly Away', 'Where Are We Running', of course 'Are You Gonna Go My Way', etc. A nice mixture of old and new works.
Before the encore, Lenny Kravitz took quite some time to introduce his band. The encore opened with an acoustic version of 'Belong To You' by Lenny and Craig Ross sitting on the border of the stage, and a nice saxophone solo later on in the song. The second and last encore was a 29-minute long version of 'Let Love Rule'. During this song, he made a tour through the huge stadium! The concert lasted 2h15min!