LIFE GOES ON by the Musicians Against Childhood Cancer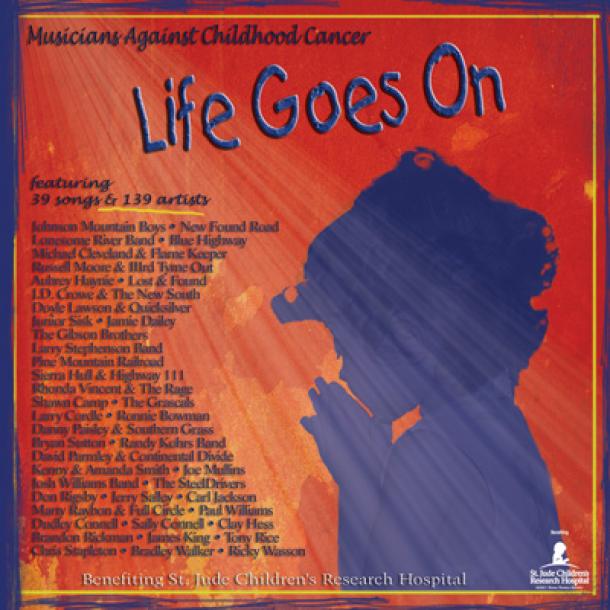 Rural Rhythm Records is proud to announce the highly anticipated new album release,
LIFE GOES ON
by the
Musicians Against Childhood Cancer®
is now released. This new 2 CD set is now available for purchase at
Amazon.com, County Sales, Ernest Tubb Records Shops, the Musicians Against Childhood Cancer website, Rural Rhythm Records
, directly through the participating artists and many more locations.
LIFE GOES ON
was recorded live during the annual MACC festivals from 2006 - 2011 with the exception of the new single
"Life Goes On"
that was recorded at Randy Kohrs' Slack Key Studio in Nashville, TN. Tracks include:
Disc 1
01 GOODBYE TO THE BLUES – Johnson Mountain Boys02 BEYOND THE SUNSET– Doyle Lawson, Russell Moore, Jamie Dailey, Josh Swift03 RAGGED MAN – Gibson Brothers04 I GOT A WOMAN – Pine Mountain Railroad05 PLEASE COME TO BOSTON – New Found Road06 SIX FEET UNDER THE GROUND – Michael Cleveland and Fame Keeper07 IN THE TIME THAT YOU GAVE ME – Shawn Camp08 GOIN' ACROSS THE SEA – J. D. Crow & The New South09 HIGHWAY OF SORROW – Junior Sisk10 FRAULEIN – Lost and Found11 RAIN AND SNOW – Brandon Rickman (Lonesome River Band)12 REVELATION – Bradley Walker 13 PANHANDLE COUNTRY – Clay Hess & Friends14 ACROSS THE GREAT DIVIDE – Josh Williams Band15 FORTY YEARS – David Parmely & Continental Divide16 THE WATER IS WIDE – Rhonda Vincent & The Rage17 HARD TIMES – The Grascals18 PAUL'S MINISTRY – Paul Williams19 STRUTTIN' TO FERRUM – Lonesome River Band20 BLUE SIDE OF THE MOUNTAIN – The SteelDrivers
DISC 2
01 MANZANITA – Tony Rice02 ROLLIN' AND TUMBLIN' - Dudley Connell, Randy Kohrs03 PRECIOUS MEMORIES – Doyle Lawson & Quicksilver04 LITTLE JOHN I AM – Russell Moore & IIIrd Tyme Out05 TENNESSEE WHISKEY – Chris Stapleton, Morgane Hayes, Bradley Walker06 SMASHVILLE – Sierra Hull & Highway 11107 GIVE MY LOVE TO ROSE – Sally Connell, Dudley Connell08 WHERE THE NEVER DIES - Don Rigsby & Josh Williams09 NOTHING BUT A WHIPPORWILL – Blue Highway10 THE WATER SO COLD – Marty Raybon and Full Circle11 THE TURKEY BUZZARD – Joe Mullins & Aubry Hayine12 HE DIED A ROUNDER AT 21 – Junior Sisk, Randy Kohrs, Josh Williams13 THE LIKES OF ME – Randy Kohrs Band14 SHOUTING TIME IN HEAVEN – Kenny & Amanda Smith15 AT THE END OF THE A LONG LONELY – Danny Paisley & Southern Grass16 MEMORIES OF MOTHER – James King17 I SHOULD'VE CALLED – Larry Stephenson18 OLD VIOLIN – Larry Cordle, Michael Cleveland19 LIFE GOES ON – Jerry Salley, Carl Jackson, Ronnie Bowman, Rickey Wasson, Larry CordleRural Rhythm Records will soon release a new music video of the first single, "
Life Goes On
." The song is currently #8 on the
Bluegrass Today
Weekly Airplay Chart. The VIDEO was filmed at Liberty Church in Gallatin, TN during the week of the 2012 SPBGMA convention and features
Jerry Salley, Carl Jackson, Larry Cordle, Rickey Wasson
, and directed by brothers, Sammy Passamano III and Anthony Passamano of Rural Rhythm Records. Although the video is
still in production
, the label has released a short clip as shown above. Family memory photos are courtesy of the musicians involved in this project and Darrel Adkins. Darrell and Phyllis Adkins founded Musicians Against Childhood Cancer in honor of their daughter, Mandy who lost her battle with cancer on November 25, 2000. Proceeds from the annual festival benefit
St. Jude Children's Research Hospital
in Memphis, Tennessee.