LITTLE STEVEN WELCOMES THE YARDBIRDS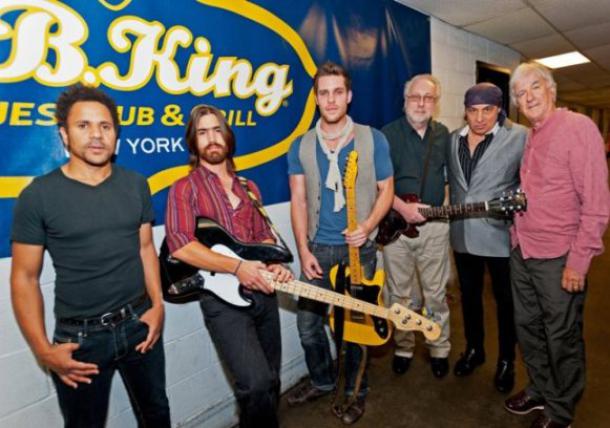 Little Steven will always rave about The Yardbirds, singing the group's praises from the rafters and to the world.  Generally he plays the band in heavy rotation on his Sirius XM channel, Little Steven's Underground Garage.  On Wednesday, September 7, he was declaring the band's place in music history when he emceed the Yardbirds at BB King Blues Club and Grill, in New York City.  (In fact Steven's "rave up" of the band was caught on youtube.
GUITAR WORLD editor Brad Tolinski was also in attendance at the show, and he immediately reviewed the show on his blog, stating, it was "one of the best gigs I've seen this year."
Left to Right:  Yardbirds singer: Andy Mitchell, bassist David Smale, guitarist Ben King, rhythm guitar Chris Dreja, Little Steven, and Yardbirds' drummer Jim McCarty
--
ALL YARDBIRDS NORTH AMERICAN DATES
Sept. 10: Parilla Center, Rockville, MD
Sept. 11: Rams Head, Annapolis, MD
Sept. 15: New Showroom, Hawaiian Brians, Honolulu, HI
Sept. 16: Maui Arts and Cultural Center, Maui, HI
Sept. 17: Horoka Peoples Theatre, Big Island, HI
Sept. 21 Key Club, Hollywood, CA
Sept. 22: Coachhouse, Santa Ana, CA
Sept. 23:  Canyon Club, Agoura Hills, CA  
Sept. 24: El Rey Theatre, Chico, CA