Lola Danza debuts her project "Janya" @ Kennedy Center
Submitted by press on Tue, 05/10/2011 - 18:48
Lola Danza debuts her project "Janya" at the Kennedy Center in Washington D.C. this Friday May 13th 2011 at 6pm.
In Sanskrit Janya means to be born and in Korean Janya means around dawn.  Janya was created by four unique musicians-- all derived from Korean descent and all women. The music is a fusion of East and West—the East: Seungmin Cha- Daegeum, Eun Sun Jung- Gayageum and Woonjung Sim- Janggo, the West with Half Korean American Singer Lola Jung Danza. Something shamanic and magical exists between the four musician women and so-- Janya was born… around dawn.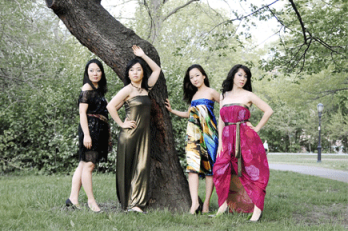 They will also premier their work from their new album entitled "Janya" recorded at Bill Laswell's studio. They will have the music available exclusively at the Kennedy Center on Friday, May 13th and it will be released worldwide this summer on Evolver Records and also on a Korean label soon TBA.
You can also watch the Kennedy Center performance of Janya "live" at http://www.kennedy-center.org/explorer/live/

Please visit www.LolaDanza.com for more information.