Los Amigos Invisibles | Repeat After Me | Review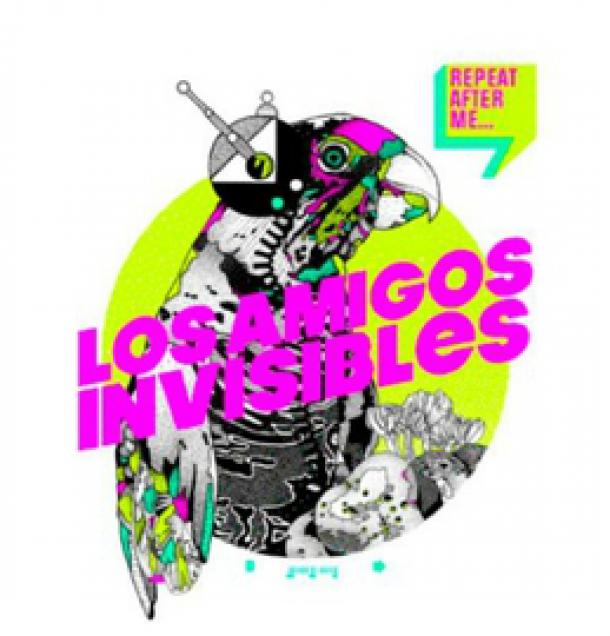 I first discovered the Venezuelan dance-pop band Los Amigos Invisibles through their Grammy-winning 2009 album Commercial, which represented a conscious effort to reach out to a wider, more global audience than their previous work had attracted. As I listened through their discography, they quickly became one of my favorite bands. If you like funky, danceable rhythms mixed with catchy hooks in a jazzy, tropical ambience, Los Amigos are definitely a band for you.
To my lack of surprise, then, their latest effort, Repeat After Me, maintains the very high standard of their previous work, while taking them slightly further down the path started on Commercial - namely, a greater emphasis on pure dance-pop songwriting (with more English lyrics than before as well) as opposed to the genre-leaping eclecticism of their pre-Commercial output. While I do miss their more traditional Latin songs (salsa, cumbia, etc.), the quality of the songwriting here is as high as ever.
The album's opener and lead single, "La Que Me Gusta," is fun and infectious, with a bright major-key melody, luscious harmonies, and copious cheerful whistling laid atop a bouncy Motown-style beat. Songs like "Corazón Tatú" and "Stay," meanwhile, are more familiar Amigos-style dance numbers, featuring four-on-the-floor rhythms and lush synths, and "Invisible Love," with its handclaps and funky string arrangement, is a straight-up disco song that might serve well - considering its title - as a theme song for the band's acclaimed live shows.
"Sex Appeal," another funky dance number, contains one of the catchiest choruses I've heard recently (not to mention one of the most strange, with its six-bar structure and unusual chord progression), while "Hopeless Romance" would match this feat were it not for its strange production, which - quite unusually for this band - buries the kick drum far too deep in the mix.
"Mostro," meanwhile, is a brilliant lounge-jazz parody (executed with jazz-worthy musicianship, of course) on a par with the Amigos' previous exercises in this genre, and "Río Porque Non Fue Un Sueño" is a languidly gorgeous midtempo R&B ballad. Perhaps the only real failure on the album is "Like Everybody Else," a boring and harmonically static funk tune with truly vapid lyrics (which of course is not to say that the Amigos' words are pure poetry otherwise - this is a band one listens to for groovy beats and impeccable musicianship).
Overall, then, Repeat After Me is yet another triumph for Los Amigos Invisibles. It may not be very innovative, but that is probably a positive for a band that already does its thing so consistently well.