Lost & Nameless Releases New CD, 'Empty Space,' March 18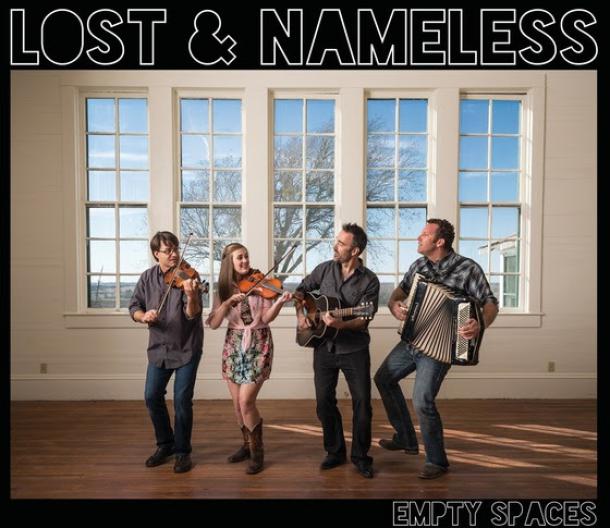 Of course there's a hint of humor behind a band moniker like Lost & Nameless, which belongs to an Austin-based foursome that deserves anything but anonymity. And with the March 18 release of their new CD, Empty Spaces, the irony is likely to grow right along with this contemporary folk-rock band's renown. 
The band has slated a series of performances around the release, including a Feb. 20 showcase at the International Folk Alliance conference in Kansas City and a March 28 release show at the Cactus Café in Austin. (See list below.) For more info and updates, visit lostandnameless.com.
Lost & Nameless are: Arkansas fiddle champion Chris E. Peterson, whose lineage includes Wagon and the Peterson Family Band, on fiddle, mandolin, lap steel and vocals; his longtime performing partner Patrick Conway on vocals, guitar, bass, banjo and harmonica; Nathan Quiring on keyboards, accordion, glockenspiel and vocals; and Kimberly Zielnicki, Old Settler's Music Festival's 2012 Youth Talent Competition winner, on vocals, fiddle, bass, ukulele and piano.
With complex, turn-on-a-dime arrangements and performance history that reaches back into their childhoods, these seasoned professionals whip up an unforgettable sonic whirlwind wherever they play. And Empty Spaces, recorded in Nashville with Grammy-winning producer Bil VornDick, is likely to lure many more listeners into their vortex.
Upcoming Lost & Nameless performances
Feb. 14 – Strange Brew, Austin
Feb. 20 – Folk Alliance International Conference, Westin Crowne Center, Kansas City, Mo. 
March 12 – The Driskill Hotel, Austin (SXSW official showcase)
March 16 – Bernhardt Winery, Plantersville, Texas
March 28 – Cactus Café, Austin *
April 5 – Historic Lantex Theater, Llano, Texas
April 13 – Woodlands Waterway Arts Festival, The Woodlands, Texas
May 17 – Wildflower! Arts & Music Festival, Richardson, Texas
* CD Release show