Lotus are about to break ground in a way that no other rock band has done prior - they are plotting a tour this fall that truly allows their legion of fans to pay-what-they-want for tickets. The Pay-What-You-Want-Tour featuring Lotus is an eight night run of shows in western U.S. states, sponsored by Ticketweb, that lets the fans decide how much their show ticket will cost. At the $15.00 Pay-What-You-Want level or higher, fans receive free digital downloads of the band's two new EPs Feather on Wood and Oil on Glass, both to be released on October 6, 2009.
The Pay-What-You-Want dates are part of Lotus' larger Fall Tour, running from early-October through the end of the year. Big stops include performances at Denver's Fillmore, NYC's Terminal 5, Baltimore's Sonar, Chicago's Vic Theatre, and others. Lotus brings out several must-see opening acts for many of these shows, including Break Science feat Adam Dietch, The Egg (from London, UK), Big in Japan, and Big Gigantic. Don't miss a few special small shows: here's the scoop - two shows at NYC's Mercury Lounge are being bundled with the T-5 ticket, and the same offer is available for the Denver shows (to get into Quixotes, you must buy the Fillmore ticket).
Downloads of both new EPs will be bundled with advance ticket purchases for select Fall Tour dates including the three New York City shows, two Denver shows, both Boston shows and a few other shows to be determined. The material on both Feather on Wood and Oil on Glass can be directly traced back to Lotus' 2008 full-length release, Hammerstrike. A number of songs were recorded that didn't find their way onto Hammerstrike (either they hadn't been finished by deadlines or they weren't coalescing with the sound of that project), but after finishing the album, Lotus decided to revisit these tracks, and the results are extraordinary. Feather on Wood is sunnier with a laid-back vibe, yet not afraid of big rock beauty, while Oil on Glass is darker in character, with more head-nodding tempos.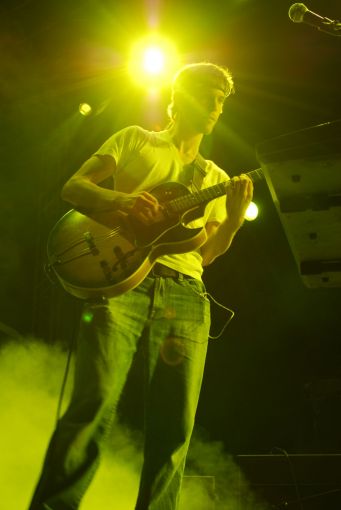 Listing of forthcoming Lotus tour dates (and who will be opening each show):
September 4 Bottom Line Nagoya, JP
September 5 Metamorphose Festival Tokyo, JP
September 6 Drunkard's Stadium Kashiwa, JP
September 18 Mercury Lounge New York, NY
September 19 Mercury Lounge New York, NY
October 2 Aces Lounge Austin, TX
October 3 Aces Lounge Austin, TX
__
PAY-WHAT-YOU-WANT Dates (Oct 6-Oct 14)
October 6 The Roxy Hollywood, CA w/ Break Science ft Adam Dietch
October 7 The Independent San Francisco, CA w/ Break Science ft Adam Dietch
October 8 McDonald Theatre Eugene, OR w/ Break Science ft Adam Dietch
October 9 The Showbox Seattle, WA w/ Break Science ft Adam Dietch
October 10 Crystal Ballroom Portland, OR w/ Break Science ft Adam Dietch
October 11 The Nightlight Bellingham, WA w/ Break Science ft Adam Dietch
October 13 Knitting Factory Boise, ID w/ Break Science ft Adam Dietch
October 14 Murray Theater Salt Lake City, UT w/ Break Science ft Adam Dietch
__ __ __
October 15 Belly Up Aspen, CO
October 16 Quixotes Denver, CO
October 17 The Fillmore Denver, CO
October 20 Granada Theatre Lawrence, KS
October 21 The Old Rock House St. Louis, MO w/ The Egg
October 22 Slowdown Omaha, NE w/ The Egg
October 23 First Avenue Minneapolis, MN w/ The Egg
October 24 Turner Hall Ballroom Milwaukee, WI w/ The Egg
October 26 Copper Dragon Carbondale, IL w/ The Egg
October 27 Bluebird Nightclub Bloomington, IN w/ The Egg
October 28 Bogart's Cincinnati, OH w/ The Egg
October 29 House of Blues Cleveland, OH w/ The Egg
October 30 The Town Ballroom Buffalo, NY w/ The Egg
October 31 Sonar Baltimore, MD w/ Big In Japan & The Egg
November 4 Higher Ground Burlington, VT w/ The Egg
November 5 Paradise Rock Club Boston, MA w/ The Egg
November 6 Paradise Rock Club Boston, MA w/ The Egg
November 7 Revolution Hall Troy, NY
November 10 Is Venue Charlottesville, VA w/ Big Gigantic
November 11 Cat's Cradle Carrboro, NC w/ Big Gigantic
November 12 Variety Playhouse Atlanta, GA w/ Big Gigantic
November 13 Bear Creek Music & Arts Festival Live Oak, FL
November 14 Orange Peel Asheville, NC w/ Big Gigantic
November 27 Vic Theatre Chicago, IL
November 28 Terminal 5 New York, NY