The Louis Armstrong House Museum Announces 2nd Annual Gala
Submitted by Eigo on Tue, 11/13/2012 - 15:01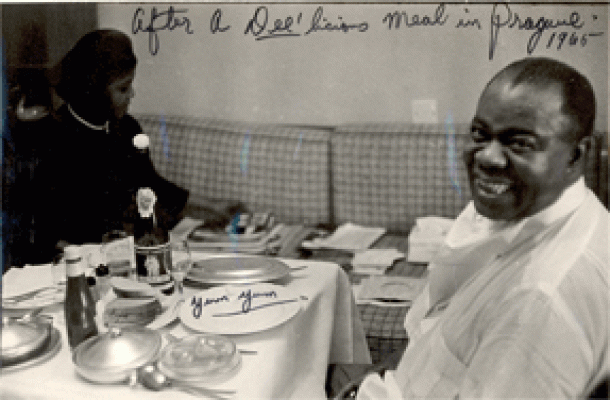 The Louis Armstrong House Museum Gala will be held on Tuesday, December 4, 2012 at the Manhattan Penthouse, 80
Fifth Avenue, New York, NY 10011. The cocktail hour begins at 6:00 pm; dinner and the awards ceremony follow at 7:15 pm featuring a special performance by David Ostwald's Louis Armstrong Centennial Band. Business attire is welcome.
The Gala Celebration honors Stanley Crouch, distinguished author and President of the Louis Armstrong Educational Foundation; Jimmy Heath, saxophonist, composer, arranger, and Queens College Professor Emeritus; and George Wein, legendary jazz impresario and Chairman of the Newport Festivals Foundation, for their pioneering work to preserve and promote the cultural legacy of Louis Armstrong.
 
Stanley Crouch is an awarding-winning writer and co-founder of Jazz at Lincoln Center. Henry Louis Gates, Jr. has written about Mr. Crouch: "Each generation has a moment, or an embodiment, of hard-earned integrity and the keenest insight. Among our generation of writers, Stanley Crouch is that moment."  Crouch's writings on Louis Armstrong are considered some of the finest in the literature of music.  He serves on the Board of Trustees of the Museum.
 
Jimmy Heath was named an NEA Jazz Master, Jazz's highest honor, in 2003 for   his monumental contributions to Jazz as a saxophonist, composer, and arranger.  He founded the graduate program in Jazz Studies at Queens College in 1987 and retired in 1998 as Professor Emeritus.  He was an early advocate for the establishment of the Louis Armstrong House Museum and a charter member of the Museum's Advisory Board.
George Wein, legendary producer, promoter, founder of the Newport Jazz Festival, and Chairman of the Newport Festivals Foundation, invented the concept of the jazz festival.  In recognition of the thousands of jazz performances that he produced, he was named an NEA Jazz Master in 2005.  He has been called "the most famous jazz impresario" and "the most important non-player... in jazz history."  A decades-long Armstrong fan, he produced some of Armstrong's most notable concerts and is a member of the Museum's Advisory Board.
Michael Cogswell, the Museum's Director, recalled that, "I've attended many galas over the years, but the Louis Armstrong House Museum's inaugural gala in 2011 was the first gala I have seen at which, at the end of the evening, no one wanted to leave!  The music was so gorgeous and the vibe was so welcoming, that all the guests continued to hang out.  I hope for the same this year."
The Louis Armstrong House Museum is the modest home of Louis and Lucille Armstrong in Corona, Queens.  The Museum's programs feature house tours, jazz concerts, educational events and community outreach. It is a National Historic Landmark and New York City Landmark; and what was once a stack of 72 shipping cartons of "Satchmo's stuff" has grown to become the largest research archives in the world for any jazz musician.