Luther Russell Announces New Double LP
Luther Russell is set to release his fifth LP, a double-length entitled The Invisible Audience, on July 12th on Ungawa Records. It's a wildly ambitious record from the multi-talented singer-songwriter/producer, which he calls "a glimpse into the jukebox of my psyche." The twenty-five tracks on this epic record were culled from months and months of recording "whenever I could get into my eight-track studio or on a four-track cassette to get an idea down." The album's narrative flow seems to run the gamut of emotions from regret, betrayal and loss to humor, nostalgia and hope. His last release, 2007's Repair (produced by Ethan Johns) was a ragged, rootsy pop record full of rich, sometimes bouncy melodies which belied their darker subject matter, namely that of his then-fresh divorce. The album won him quite a bit of acclaim but nonetheless failed to break him to a wider audience. Since then he concentrated on the production side of things, working with a wide array of artists, including Noah & The Whale, Laura Marling, Sarabeth Tucek, Holly Miranda, Richmond Fontaine, Sean Lennon and Fernando, to name a few.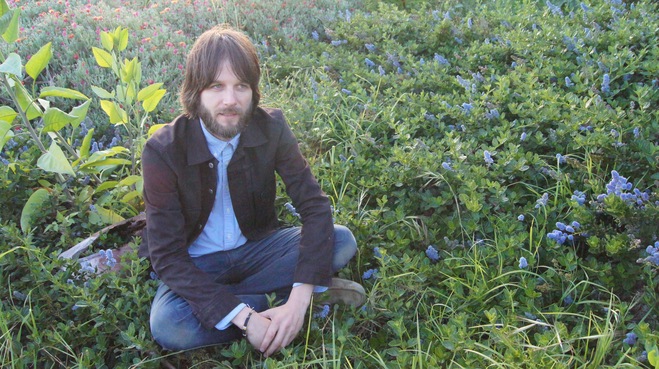 It was during this industrious period that Luther would hit the recording studio on his own whenever time permitted "to capture some kind of feeling before it slipped away" or for other projects like "the odd failed soundtrack that never was." Being a multi-instrumentalist (Luther has lent his talents to many other artists on drums, guitar, bass, keys, etc.) helped to get many songs recorded with no time to waste. For instance, "Traces," a track evoking Slim Chance-era Ronnie Lane, was done "pretty much in one day", recalls Russell. Still, he did enlist help from a few close musical allies to help flesh out harmony-laden blasts like "Everything You Do" and "Tomorrow's Papers", as well as the psychedelic trance-rock of "Motorbike". In fact, on the elegiac "In This Time," members of his old band The Freewheelers popped by to help with the feel of the track. "I just had so many different types of songs coming out of me over the past few years that for once I wanted to intertwine as many as I could, regardless of style or genre, to try and paint a more complete picture of who I am as an artist. This would be my chance because I could take my time and do it until it was done--whenever the hell that would be".
Turns out it wouldn't be for roughly five years, as Luther wouldn't finally compile the songs until he was able to listen to many different sequences on the often snail-paced subway rides between Manhattan and Brooklyn where he had relocated after several years in Los Angeles. "I just began to hit upon the fact that all of the instrumental tracks that I had accrued could provide little 'smoke breaks' for the listener, so to speak". Inspired by the sprawling double-albums of his youth, such as Husker Du's Zen Arcade, Game Theory's Lolita Nation and Fleetwood Mac's Tusk, he began to see the songs woven together in a longer, more colorful tapestry. "I wanted to make a record that someone could literally get lost in...every time you'd drop the needle you'd be somewhere new. It would be like a friend that was always around, but each time you get together something has changed a little, just like in life". Invariably the album would wind up consisting of some darker pathways, to which Luther attributes more than a few harrowing experiences, such as the sudden passing of two of his "very best friends" and a horrible accident where he nearly lost use of his right hand. "A period of intense darkness seemed to settle over me after the recording of my last record. Moving to New York was definitely an 'escape' of sorts, but the kind of loss I experienced over the past few years one can never quite shake, I think".
It's these more contemplative stretches of musical highway that are found in songs such as "A World Unknown," a stripped-down blues lament concerning "various frightened glimpses into one's own mortality" and "1st & Main," a spidery concoction regarding a certain sojourn through downtown L.A. "which I'd rather not discuss", Russell broods. Livelier tracks include the uproarious "Long Lost Friend," something of a sonic shotgun-wedding between the Faces and Nilsson, juxtaposed with lyrics about "literally having fuck-all", and "Ain't Frightening Me," a dervish of acid words and zig-zag melody influenced by the proto-power-pop of Nick Lowe and Dwight Twilley. The font of mix-and-match songcraft throughout the record can also be attributed to Luther's background, which includes a grandfather and great-uncle, each of whom wrote several Tin Pan Alley standards. It's this family history which he pays tribute to on instrumentals such as the ragtime-y "109th & Madison" (named for the intersection in Harlem where his grandmother grew up) and "Still Life Radio," the old Broadway-style opener which evokes an instant nostalgia even before the expansive record has begun to rev-up (with the grinding Sidekick Reverb).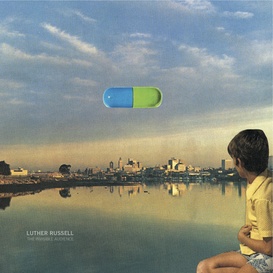 As to the inevitable head-scratching regarding the sheer length of the record, Luther takes it in stride. "I fully get and understand that many people will ask 'why so long' and generally not have the patience to sit through such an 'endless' listen", he laughs, "but I just had to do it. It just felt right and I thought it would be a true musical experience--that is if you even like what I do in the first place!" This time around, not only has Luther Russell made a record that has many of the hallmarks he is known for (ear-catching melodies, lyrics layered with multiple meanings and adventurous musicianship), but he's managed to make one that contains all of them: the dark folk-blues territory he has covered in past records such as Lowdown World, the bold experimentation found in out-of-nowhere u-turns like Down At Kit's and the melancholy pop of the aforementioned Repair. The Invisible Audience aims to tie up the many loose ends of Luther's recorded output and twist it into something new, yet strangely recognizable. "It's an album made for music fans. People like me. Folks who want to disappear for a while, take a vacation from all the bullshit. All you need is a pair of headphones and an open mind".