Madeleine Peyroux at the Boulder Theater | 4/13
Submitted by mike on Tue, 03/29/2011 - 02:19
The compelling vocalist and songwriter Madeleine Peyroux will reveal two tracks from her recently completed new album with digital EP available everywhere on March 29. Helmed by noted producer Craig Street (Norah Jones, k.d. Lang, Cassandra Wilson) and featuring Marc Ribot on guitar/banjo along with Me'shell Ndegeocello on bass, Peyroux's latest sessions signal a new approach for the musician as she carries her jazz sensibilities into rootsier territory.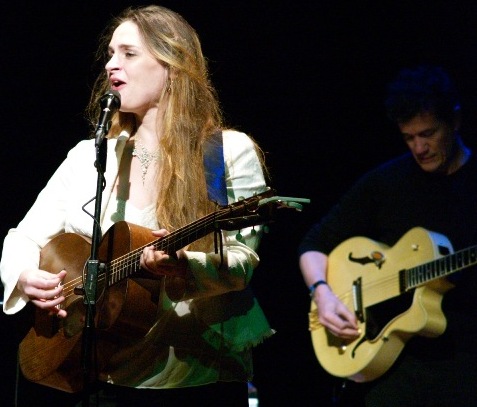 The EP includes a gorgeously melancholic folk rendition of The Beatles' "Martha, My Dear," and the eerie, intimate new original song "The Things I've Seen Today," which Peyroux co-wrote with vocalist/violinist Jenny Scheinman. In addition to contributions from Ribot and Ndegeocello, the tracks feature drummer Charley Drayton (Neil Young, Johnny Cash) and guitarist Chris Bruce (Seal, John Legend). These core musicians appear throughout Peyroux's forthcoming album, 'Standin' on the Rooftop,' which consists mainly of her newly written songs.
Peyroux will hit the road in April to preview more songs from the anticipated new album 'STANDIN' ON THE ROOFTOP,' due out June 7 on Decca Records. See below for full tour dates.
Peyroux's 2004 album 'Careless Love' was a major breakthrough, reaching Gold status in the US, selling over two million copies worldwide and landing on numerous top-of-the-year lists. Known as a gifted interpreter of material from the jazz canon to Bob Dylan, with her last album, 2009's 'Bare Bones,' Peyroux found her voice as a songwriter. The New York Times noted that Peyroux "has branched out to refine an enigmatic, low-key personal style that is all her own."
More details on the new album will be announced soon.
--
Tickets are on sale at Boulder Theater Box Office. Call (303) 786-7030 for tickets by phone.
Tickets are also available through our website @ www.bouldertheater.com.
Tickets are On Sale Now!!
$30 GA / $40 Reserved / $47.50 Gold Circle