Maia Sharp's "Change the Ending" to Radio on Feb. 5 to Coincide with New Tour Dates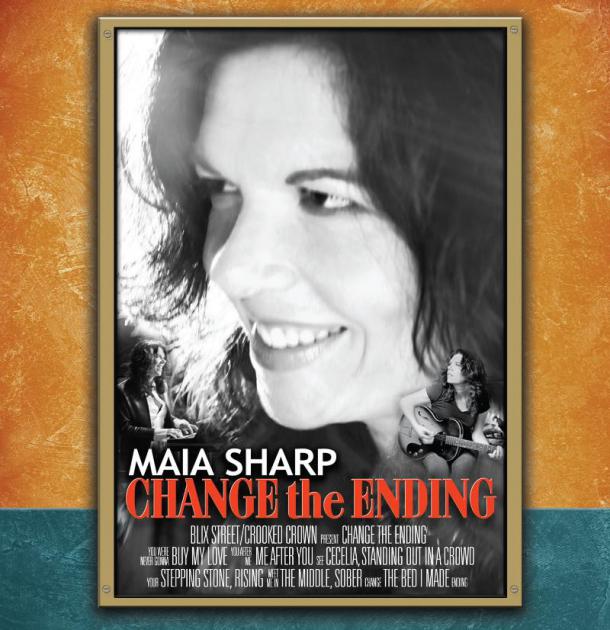 On February 5, Blix Street/Crooked Crown Records will release "Change The Ending," the next single from the album of the same name by acclaimed singer-songwriter-producer Maia Sharp. The new single will be serviced to radio as Sharp once again hits the road for a number of solo shows as well as select dates opening for nine-time Grammy® winner Bonnie Raitt. Raitt performs on CHANGE THE ENDING, and Sharp can be heard on Raitt's current album, SLIPSTREAM.
"Change the Ending" follows the release of "Me After You," the album's lead track which reached the Top 40 at the Triple A radio format, garnering play in the fall on SiriusXM's
The Loft, KFOG - San Francisco, KCSN - Los Angeles, KINK - Portland, OR, WYEP - Pittsburgh, KPRI - San Diego and WXRV - Boston, among other stations around the country.  Fans can check out the new single at: http://maiasharp.com/view/Artist
"Sharp continues to raise the bar for smart, evolved song craft," said Music Connection Magazine of CHANGE THE ENDING, while USA Today, in a 3-star (out of four) review, said, "The L.A.-based songwriter continues to build an impressive solo career with her serious and sensitive, jazzy/poppy fifth album. These 10 originals showcase Sharp's clear, aching voice and tough-tender reflections on love."
Sharp grew up in Los Angeles, and she gives a sly wink to her hometown's most recognized industry-filmmaking-which provides the perfect metaphor in the "Change the Ending" track.   The song's narrator considers how a romance might have fared with a little rewrite: "It's a beautiful story," she observes ruefully in the chorus, "if you change the ending." The movie poster style album cover art as well as movie theme of the video for "Me After You," which features Maia as a theatre's accompanist against a montage of silent film heroines in emotional turmoil, continues the album's homage to the cinema.
CHANGE THE ENDING is Sharp's follow-up to the 2009 album,ECHO, produced by Don Was. It contained the Top 10 Triple A radio hit "John Q. Lonely" and "Death By Perfection," which featured Raitt and was tapped by NPR as "Song of the Day."
After Maia produced Edwin McCain's album MERCY BOUND as well as two songs for Art Garfunkel's latest release THE SINGER, she elected to produce CHANGE THE ENDING herself. She assembled a notable crew of musicians to back her, including guitarist Linda Taylor (Tracy Chapman, Edwin McCain), who often accompanies her on the road, drummer Matt Chamberlain (The Wallflowers, Fiona Apple) and bassist David J. Carpenter (John Doe, Toni Childs).
"I had been working with several other artists on their albums, and I was just hooked on that whole feeling, so I decided to produce this album alone," says Maia. "I had to learn to be my own sounding board because I'd finish a vocal and come out, and there was nobody else there to go 'yeah, that was great' or 'you really need to do that again.' But it was a great experience, and I learned a lot."
The new album reaffirms Sharp's gift for capturing the subtleties and shades of gray that characterize relationships. During the recording sessions, Sharp admits, "We did change the ending a few times--and it was always for the better."
In addition to her string of acclaimed solo albums and numerous production credits, Maia Sharp is also a sought-after songwriter whose songs have been recorded by numerous artists, among them the Dixie Chicks, Keb' Mo', Terri Clark, Cher, Trisha Yearwood, Lisa Loeb (the title cut and single of her new album NO FAIRY TALE) and Bonnie Raitt.  "Bonnie Raitt often covers Sharp's songs," said the New York Daily News in a review of CHANGE THE ENDING, "and no wonder. She writes melodies wide enough to let singers show their range, with lyrics that cut to the bone. Here Sharp proves she has the goods to do all that on her own." The Advocate summed it up nicely: "A prolific songwriter, she's written music for some of the industry's best, but she's a star in her own right, too."
Maia Sharp's tour schedule is as follows:
February 14-Long Beach Terrace Theatre, Long Beach, CA (opening for Bonnie Raitt)
16-Fantasy Springs Casino, Indio, CA (opening for Bonnie Raitt)
17-Ikeda Theatre, Mesa Arts Center, Mesa, AZ (opening for Bonnie Raitt)
22-Pearl Theatre at the Palms, Las Vegas, NV (opening for Bonnie Raitt)
23-Copley Symphony Hall, San Diego, CA (opening for Bonnie Raitt)
March 14-Frank's Place, Fresno, CA
15 - Aubergine, Santa Rosa, CA
24--Room 5 Lounge, Los Angeles, CA
April 12-Hendricks Hall, University of Missouri, Warrensburg, MO (Nashville Backstage Pass Songwriters in the Round with Craig Carothers and Randy Sharp)
13-Uncle Slayton's, Louisville, KY
19-Club Café, Pittsburgh, PA
28-Third & Lindsley (NSN on WRLT), Nashville TN (with Kim Richey)
May 4-The Sanctuary, Chatham, NY (Songwriters in the Round with Dan Navarro and Chip Taylor)