The Mantras Announce New CD w/Jake Cinninger, Download & Tour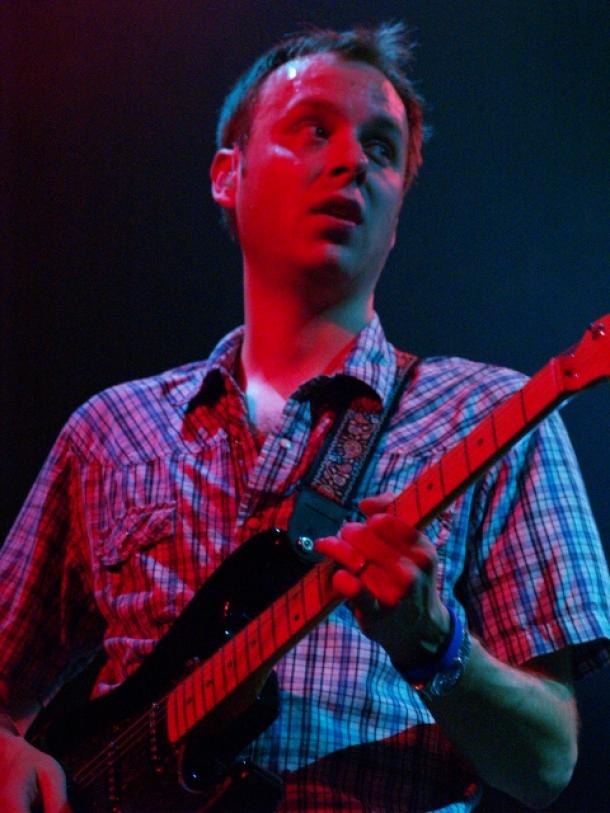 The Mantras
, North Carolina's funk fusion power quintet, have released the first single from their upcoming album 'Jam Bands Ruined My Life!'. Video of the new single 'Kinetic Bump' featuring
Jake Cinninger
on guitar performing along with these progressive rock upstarts is available
here
.This album is the band's most cohesive effort to date, defining and refining the band's sound as myriad and full of depth. The band moves effortlessly between styles on danceable, aggressive, and at times, pensive tracks that take the listener through the full range of emotions the band has experienced over the last two years. 'Jam Bands Ruined My Life' is also the band's thank you to their fans for sticking by them and saving them from a life of who knows what; "one lived entirely in cubicles most likely", the band speculates.'Jam Bands Ruined My Life' was recorded and produced at
Jake Cinninger
's (
Umphrey's McGee
) Boondock Studios in Michigan, with help from Jake as a guest producer and engineer. Jake is also a featured guitarist on this single, 'Kinetic Bump', as well as other tracks on the full release, which is slated for January release.
The Mantras
will join
Umphrey's McGee
in Richmond, VA at
The National
on January 26 as part of an extensive nationwide tour, which has
The Mantras
performing extensively throughout the Midwest, Northeast, Mid-Atlantic, and Southeast.'Kinetic Bump' is available for free download at
http://the-mantras.bandcamp.com
. Complete information on The Mantras is available at
www.themantras.com
.
The Mantras Tour Dates:
Thu, Dec 20 Charleston Pour House - Charleston, SCSat, Dec 22 The Hot Spot – Waynesboro, VAFri, Dec 28 Pisgah Brewing Company – Black Mtn., NC w/ Booty BandSat, Dec 29 Lincoln Theater – Raleigh, NC w/ Booty BandSun, Dec 30 Neighborhood Theater – Charlotte, NC w/ Booty BandMon Dec 31 The Blind Tiger – Greensboro, NC w/ Booty BandThu, Jan 17 Galaxy Lounge - Johnson City, TNFri, Jan 18 Southern Music Hall & Café – Charlottesville, VA w/ Former ChampsSat, Jan 19 Tally Ho Theatre – Leesburg, VAThu, Jan 24 Motorco Dance Hall – Durham, NC w/ Big SomethingSat, Jan 26 The National – Richmond, VA w/ Umphrey's McGeeWed, Jan 30 Headliners – Toledo, OH w/ UV HippoThu, Jan 31 The Loft – Lansing, MI w/ UV HippoFri, Feb 1 The Abbey Pub – Chicago, IL w/ UV HippoSat, Feb 2 The Mad Frog – Cincinnati, OHFri, Feb 8 Peachtree Tavern – Atlanta, GA w/ Big SomethingFri, Feb 15 Cafe Nola – Frederick, MDSat, Feb 16 The 8x10 – Baltimore, MDSun, Feb 17 Thunderbird Café – Pittsburgh, PAMon, Feb 18 Bullfrog Brewery – Williamsport, PATue, Feb 19 Church-'Secret Session Series'- Boston, MA w/ Elephant Wrecking BallThu, Feb 21 Nectar's – Burlington, VTFri, Feb 22 Sullivan Hall - New York, NY w/ TurbineThu, Feb 28 1904 – Jacksonville, FL w/ CopeFri, Mar 1 Dunedin Brewery – Dunedin, FLSat, Mar 2 Funky Buddha Lounge - Boca Raton, FLTue, Mar 26 Gerstle's Place – Louisville, KY w/ DopapodWed, Mar 27 Cosmic Charlie's – Lexington, KY w/ DopapodThu, Mar 28 Sycamore Deli – Blacksburg, VAFri, Mar 29 Asheville Music Hall – Asheville, NC w/ DopapodSat, Mar 30 Ziggy's Music Hall - Winston-Salem, NC w/ Dopapod