Marc Brownstein Announces His First Full Length Production Project
Submitted by press on Thu, 02/03/2011 - 21:47
Marc Brownstein, best known as the bassist for The Disco Biscuits, has a new project that has been making waves in other circles of late: he's produced the entirety of McKenzie Eddy's forthcoming album. "Retrograde," the first single and video from her Brownstein-produced solo album, is currently available for free download as part of her mixtape, "A Prelude to My Next Excursion," which was just released and features Wiz Khalifa, Curren$y, Nicole Wray, and Stalley.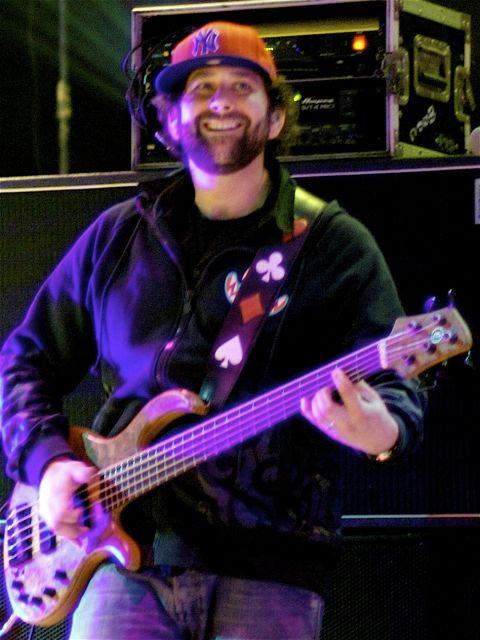 With the "Retrograde" single seeing coverage from established hiphop outlets such as HipHopDX, HipHopSite.com, and others, the full length album is sure to have high visibility.
Download "A Prelude to My Next Excursion" here. Watch the "Retrograde" video here.
Eddy's full length debut solo album, produced by Marc Brownstein of The Disco Biscuits in the Biscuits' own Diamond Studios in Philadelphia, is scheduled for release in April. Studio production, in a variety of genres, is not new hat to Brownstein – but Mckenzie's album will be the first full length album produced entirely by Marc. The album, which also features vocals by the Platinum selling R&B singer Nicole Wray, features the beautiful and soulful storytelling of "the Baby Face of Hip Hop," as Eddy was called by Elle Magazine this year.
The album, untitled as of yet, is slated to be one of four initial releases on the BiscoRoc label, a joint venture between the Disco Biscuits and Roc-a-Fella founder, and current BluRoc Records owner, Damon Dash. Other projects expected to be released this year on the label include the Disco Biscuits' mixtape, "SkiBeatz vs. The Disco Biscuits," which will also feature Wiz Khalifa, Curren$y, and Stalley, in addition to Jay Electronica, Mos Def, the Cool Kids, and Jim Jones of the Diplomats rapping over remixes of TDB's "Planet Anthem" and Ski's "24 Hour Karate School," as well an all original, full length, hip-hop album entitled "BiscoRoc."
In addition to her Brownstein-produced solo album, McKenzie Eddy will be very busy in 2011. In early March, Eddy and Curren$y will co-star in the "Muscle Car Chronicles," a musical short film and album inspired and produced by Sean O'Connell, executive produced by Damon Dash, and directed by Coodie and Chike of Creative Control. The "Muscle Car Chronicles" will be distributed by Def Jam Records.
Brownstein is currently on a six-week tour of the nation with his electronic side-project, Conspirator, which will make stops at the House of Blues in LA, the Congress Theater in Chicago, the Gramercy Theater in NYC, and the world famous Ultra Music Festival in Miami.
--
DOWNLOAD McKENZIE EDDY'S MIXTAPE HERE.

Tracklisting:
1.      Intro
2.      Silence Feat. Curren$y and Wiz Khalifa (Produced by Ski Beatz)
3.      Retrograde (Produced by Marc Brownstein)
4.      Glasshouse feat. Da$h (Produced by Ski Beatz)
5.      Bangers and Cash (Produced by Voodoo Farm)
6.      Secret Side feat. Stalley (Produced by Sean O'Connell)
7.      Minions (Produced by Voodoo Farm)
8.      Rice Crispy Treats Heat Wave ( Produced by Chuck Inglish)
9.      Homegrown feat. Eric Church and Curren$y
10.    Instrument for Your Mental (Produced by Brooklyn Dawn)
11.    Love Plus One (Produced by Voodoo Farm)
12.    Whiskey Sisters featuring Nicole Wray (Produced by Sean O'Connell)
13.    Hollow Hills (Produced by Voodoo Farm)
14.    Let Me Let You Go (Produced by Sean O'Connell)
15.    Equalibrium (Produced by McKenzie Eddy)
16.    Sideways Cover (Produced by Voodoo Farm)
17.    Broke My Leg (Produced by Om'Mas Keith)