MARCO BENEVENTO | Spring & Summer Tour
Submitted by mike on Mon, 04/26/2010 - 23:48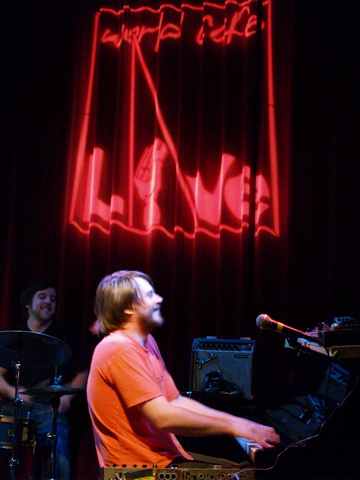 On May 11, Marco Benevento will release his third album in as many years, Between The Needles & Nightfall. We couldn't be more excited for you to wrap your ears around this groundbreaking, creative high-point from the acclaimed Brooklyn-based pianist. The pre-order for the album is now open. Pick up your copy on CD, Vinyl or limited edition Red vinyl (only 100 copies), and you'll get a link to download a bonus EP, Spell 579, that features five solo piano tracks recorded by Marco, including his long sought after version of The Shins' "Kissing The Lipless."
Pre-Order BETWEEN THE NEEDLES & NIGHFALL here
Also, Marco Benevento tour dates and lots of them...
April 21 | Bennie's Boom Boom Room | Hattiesburg, MS *w/ Dave Dreiwitz & Billy Martin
April 23 | Tipitina's French Quarter | New Orleans, LA *w/ Dave Dreiwitz, Mark Mullins & Billy Martin
April 24 | Tipitina's French Quarter | New Orleans, LA *w/ The Slip & Surprise Me Mr. Davis
April 28 | Howlin' Wolf | New Orleans, LA *Megalomaniac's Ball w/ Garage A Trois
May 2 | Hi Ho Lounge | New Orleans, LA
May 5 | The Space | Portland, ME
May 6 | The Stone Church | Newmarket, NH
May 7 | Main Pub | Manchester, CT
May 8 | RISD | Providence, RI
May 9 | Parima | Burlington, VT
May 12 | The Hideaway | Louisville, KY
May 13 | Southgate House | Newport, KY
May 14 | Martyr's | Chicago, IL
May 15 | Wilbert's | Cleveland, OH
May 16 | Club Cafe | Pittsburgh, PA
May 19 | The Nightcat | Easton, MD
May 20 | 8x10 | Baltimore, MD *w/ Xylos
May 21 | North Star | Philadelphia, PA *w/ Xylos
May 22 | Bowery Ballroom | New York, NY *w/ Xylos
June 16 | Sellersville Theater | Sellersville, PA *w/ American Babies
June 17 | River Street Jazz Cafe | Plains, PA *w/ Steve Kimock
June 18 | The Bearsville Theater | Woodstock, NY *w/ Charlie Hunter
June 24 | Tractor Tavern | Seattle, WA *w/ Surprise Me Mr. Davis
June 25 | Doug Fir Lounge | Portland, OR *w/ Surprise Me Mr. Davis
June 26 | Axe & Fiddle | Cottage Grove, OR *w/ Surprise Me Mr. Davis
June 27 | Winnipeg Jazz Festival | Winnipeg, Canada
June 28 | Montreal Jazz Festival | Montreal, Canada
June 29 | Toronto Jazz Festival | Toronto, Canada
August 8-10 | Fly Me To The Moon | Telluride, CO ***SOLD OUT
August 12-13 | Dazzle | Denver, CO