Marshall Chapman's 'Blaze of Glory' CD features Todd Snider, out 5/28
Submitted by conqueroo on Thu, 04/04/2013 - 13:08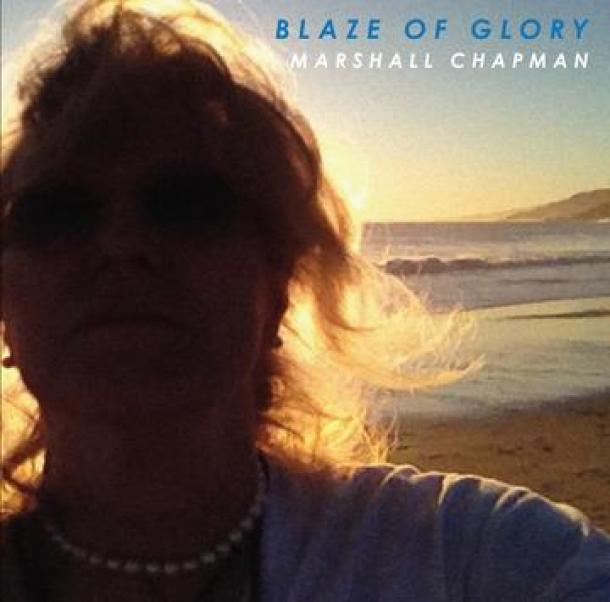 Marshall Chapman has been making records for longer than most of today's indie rockers have been alive. Blaze of Glory is her 13th release, her seventh on Tallgirl Records.
At age 64, Chapman is, as author Peter Guralnick put it, "a force of nature." Some might argue she's even picking up steam. In the last two and a half years, she's had a book published (They Came To Nashville), seen her musical Good Ol' Girls (adapted from the fiction of Lee Smith and Jill McCorkle, featuring songs by Chapman and Matraca Berg) open off-Broadway, acted in a movie (playing Gwyneth Paltrow's road manager in Country Strong), and recorded two albums — Big Lonesome (named "Best Country/Roots Album of 2010" by the Philadelphia Inquirer), and the soon-to-be-released Blaze of Glory.
"I felt, at the time, like Big Lonesome was my best," Chapman says. "So it was a no-brainer bringing in the same crew — Mike Utley, Will Kimbrough, Jim Mayer and Casey Wood — for Blaze of Glory." The album kicks off with "Love in the Wind," a duet with Todd Snider, a longtime friend for whom Chapman opened many shows while promoting her previous album.
"Everyone, myself included, just seemed to pick up and soar from where we left off," Chapman continues. "I have never felt so focused making a record. Everybody just brought it. It was magic."
Many are hailing Blaze of Glory as Marshall's masterpiece. Singer/songwriter Tom Russell says it's "her best yet," and Rodney Crowell concurs, calling it "the most satisfying record yet from the Goddess of Tall."
Marshall attributes time spent in Mexico as the inspiration for many of the songs. "I had myself convinced my muse lived down there," she says. "To dig deep, you have to live deep. That's great for songwriting, but it can be hell on a marriage. I had to pull back, which was painful. For a while, all I could see was my own mortality staring me in the face."
Chapman has perhaps her strongest slate of songs here, most of which she wrote. "I didn't think I could go any deeper. But I was in free fall, and the songs just kept coming."
Lucinda Williams, who recently listened to Blaze of Glory, had this to say: "[Marshall's] voice sounds warm with a certain soulful, cool edge that really stands out. The production, up close and real. (F—king great band!) The songs give a nod to the past in a very hip way. I found myself singing along with 'I Don't Want Nobody.' Love the duet with Todd Snider. You done good, Marshall!"
And this unexpected quote from Scotty Moore, the man whose guitar lit Chapman's rock 'n' roll fuse when she was but a tow-headed seven-year-old, sitting in the colored balcony of the Carolina Theater in Spartanburg, S.C., with her family's maid, as Moore, bassist Bill Black and a youthful Elvis Presley performed below:
"I have loved Marshall for years, but Blaze of Glory is a real work of art. The band is small; you can hear every note from every instrument (thanks Mr. Mixer); the voice is enough on top to hear every emotion in the words but not overpowering. In addition to the mechanics of the CD, which sounds much more like we did at Sun Studio in 1955 than something from Nashville in 2013, the songs are just as good as I expect from Ms. Chapman. I especially like the Bo Diddley-type opener, but every song sounds good. This is one to put on and listen all the way through, not just put one or two cuts on your iPod."
Chapman has been labeled many things over the years: No-Shame Dame, the female Mick Jagger, outlaw woman, country punk, rock 'n' roll authoress, etc. These days she's often called a survivor. But as she wrote years ago in one of her songs: "Survival is easy / It's living that's hard / It takes lots of courage / Just to be who you are."
As her friend, the three-time Grammy-nominated songwriter Matraca Berg puts it: "Marshall Chapman IS a blaze of glory. She's brave and smart and wise and . . . WILD!"
"I never intended to make it this far," Chapman sings on the title track. "I never had a fallback plan / I always thought I'd go in a blaze of glory."
Marshall Chapman is still "burning like a comet across the night sky."
And that's good news for the rest of us