Marshall Crenshaw's second EP, 'Stranger and Stranger,' coming 5/7
Submitted by conqueroo on Mon, 04/08/2013 - 10:36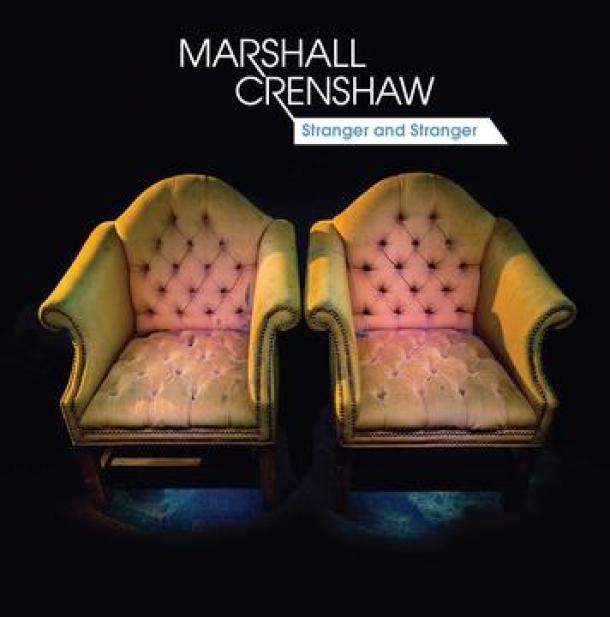 Last fall, Marshall Crenshaw announced his launch of a subscription whereby his fans could receive a series of three 10-inch vinyl EPs, each of which would include a new A-side backed with a cover song and a remake of a song from his earlier career. The EP I Don't See You Laughing Now kicked off the series last November on Record Store Day's Back to Black Friday, garnering both critical acclaim and a wave of news stories on the new business model.
Crenshaw will release a second EP, Stranger and Stranger, in a limited edition of blue vinyl, to brick-and-mortar retail on Record Store Day (April 20, 2013) with an official release date of May 7, 2013. The EP contains the title track, a cover of the Carpenters' "Close To You," and a remake of his own "Mary Anne," which he originally recorded in 1982.
Of his new A side, "Stranger and Stranger," Crenshaw says, "I'm really proud of the song. On my last tour with the Bottle Rockets I was opening the set with it, which indicates pride, right? Lyrically it describes somebody in the aftermath of a loss, maybe the end of a relationship, trying to push back against feeling like the world's turning upside down, falling apart, etc."
Crenshaw was joined on "Stranger and Stranger" by Bryan Carrott on vibraphone. "I really loved his playing on an album with Sam Rivers, called Purple Violets, and asked him if he wanted to come by and help me out," he says. "We had a fun session at Excello Recording in Brooklyn on Dec. 14, 2012, which later turned into such a Hell of a day. My Dad passed away that afternoon; his photo is on the back of the EP. He always took the music that I made very much to heart and I'm sorry of course that he won't be around to hear this new stuff."  Also joining in on the track are bassist Byron House (Band of Joy, Buddy & Julie Miller, Jim Lauderdale), and Manuel Quintana, percussion. "I've known Byron since the early '90s, when he was with Foster and Lloyd."
The EP contains a cover of the Carpenters' "(They Long To Be) Close To You," a tribute to Karen Carpenter. According to Crenshaw, "To me that's one of those records that's pure brain candy, but artful and beautiful. It used to have the same kind of effect on me as 'California Girls,' kind of a trance-inducing thing. I thought that doing it would be an interesting challenge for me and that the end result would hopefully get a rise out of people." Crenshaw recorded the basic track himself on drums, bass, and guitar, and, he explains, "I don't have a piano in my studio so I asked the great Rob Morsberger to help me out with that. He wound up being absolutely invaluable to the whole thing, supervising the orchestration, etc." The other players are Lisa Morsberger, flute; Suzanne Ornstein, viola and violin; and Glen Burtnick and Jeffrey Foskett "on East and West Coast backing vocals, respectively." The famous Herb Alpert trumpet solo on the Carpenters' version is echoed by jazz player Steven Bernstein, a veteran of the Lounge Lizards, Aretha Franklin and Hal Willner. Crenshaw: "And then the whole thing kind of explodes at the end; I've gotten a lot of gasps of disbelief from people who've heard this track."
Each Crenshaw EP contains a re-imagining of a previously released original, and for the new one he chose "Mary Anne" from his 1982 debut album. Crenshaw explains: "It's a version I did about five years ago for a film called God Is D*ad, directed by Abraham Lim. I thought the movie was really good but it never found a distributor. This version was done with acoustic instruments, bongos instead of a drum set, and, of course, me sounding old instead of young."
Those wishing to subscribe to Crenshaw's vinyl releases may do so at http://www.marshallcrenshaw.com, with a subscription link at http://bit.ly/ZqwoYG.
s Crenshaw told Billboard magazine, when the box of I Don't See You Laughing Now vinyl EPs arrived at his house, "I got the same sense as when I got my first record on Shake Records in 1980. I love the way it came out."
The new media tip sheet Hypebot called the subscription program "a focused offering from a man [who] knows his fans."
Marshall Crenshaw: the back story:
Over the course of a career that's spanned three decades, 13 albums and hundreds of songs, Marshall Crenshaw's musical output has maintained a consistent fidelity to the qualities of melody, craftsmanship and passion, and his efforts have been rewarded with the devotion of a broad and remarkably loyal fan base.
 
After an early break playing John Lennon in a touring company of the Broadway musical Beatlemania, the Michigan-bred musician began his recording career with the now-legendary indie single "Something's Gonna Happen," on Alan Betrock's seminal Shake label. His growing fame in his adopted hometown of New York City helped to win Crenshaw a deal with Warner Bros. Records, which released his self-titled 1982 debut album. With such instant classics as "Someday, Someway" and "Cynical Girl," that LP established Crenshaw as one of his era's preeminent tunesmiths — a stature that was confirmed by subsequent albums Field Day, Downtown, Mary Jean & 9 Others, Good Evening, Life's Too Short, Miracle of Science, #447, What's in the Bag? and Jaggedland.
 
Along the way, Crenshaw's compositions have been successfully covered by a broad array of performers, including Bette Midler, Kelly Willis, Robert Gordon, Ronnie Spector, Marti Jones and the Gin Blossoms, with whom Crenshaw co-wrote the Top 10 single "Til I Hear It From You." He's also provided music for several film soundtracks, appeared in the films La Bamba (as Buddy Holly) and Peggy Sue Got Married, and was nominated for a Grammy and a Golden Globe award for penning the title track for the film comedy Walk Hard: The Dewey Cox Story. Crenshaw also authored a book about rock movies entitled Hollywood Rock, and has assembled compilation albums of the music of Scott Walker and the Louvin Brothers, as well as the acclaimed country collection Hillbilly Music . . . Thank God!
Since 2011, he has hosted his own radio show, The Bottomless Pit, on New York's WFUV, Saturday nights at 10 p.m. ET.