Marshall Ford Swing Band To Release Debut Album
Submitted by mike on Wed, 01/27/2010 - 05:28
Marshall Ford Swing Band — the "young and refreshing" Austin five-piece whose vocals, piano, guitars, bass and beat combine for a swing sound that sometimes goes country and sometimes scatters some jazz — releases its first studio album, the bright and buoyant IT'S ABOUT DAM TIME, on February 16 with CD release shows across the state.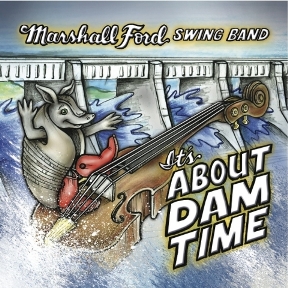 Marshall Ford Swing Band members — Emily Ann Gimble (vocals and piano), Greg Harkins (guitar and vocals), Jeremy Wheeless (guitar), James Gwyn (drums) and Kristopher Wade (upright bass) — give it their all, onstage and now in the studio.
Word of mouth in Austin music circles and gigs in some of the city's most popular restaurants and other venues, as well as time at the fiddle camp of legend Johnny Gimble (yes, Emily's grandfather), have pushed the band's evolution from its traditional country start to one embracing Western swing and its most engaging elements: retro shout vocals, twin guitar leads (by Harkins and Wheeless), an animated piano, and lyrics simple and straightforward.
Like the album, the band's shows are full of up-tempo old-time swing tunes that band members love and love to play and country- and jazz-infused originals — all of which set toes to tapping and couples to dancing.
"This group's tunes are reminiscent of the early days of swing music, where the bass kept the beat and the mandolin was a prominent fixture," said the Austin American-Statesman.
Marshall Ford Swing Band upcoming shows include:
February 14, Sengelmann Hall, Schulenberg*
February 18, Dan's Silverleaf, Denton*
February 19, The All Good Café, Dallas*
February 20, Saxon Pub, Austin*
February 26, Poodie's Hilltop Bar & Grill, Spicewood
February 27, Dosey Doe, The Woodlands*
March 6, Auslander Biergarten, Fredericksburg*
March 8, Sam's Burger Joint, San Antonio*
March 11, The Continental Club, Austin
March 26, Camp Street Café, Crockett
April 9, Central Market North, Austin
May 29, The Cain Center, Athens, Texas
* CD release shows