Mean Creek Winter Tour Dates
Submitted by mike on Wed, 12/16/2009 - 05:46
Mean Creek's new release, The Sky (Or The Underground), is a valiant, dynamic effort to resurrect Boston's relevance back to a time when bands like the Pixies, Throwing Muses, the Lemonheads, and Buffalo Tom reigned supreme. Founded in May 2006 by singers/guitarists Chris Keene and Aurore Ounjian, who'd been preforming as a folk duo for a few years, Mean Creek's debut album Around The Bend earned them critical praise throughout Boston and New England, and landed them on a UK tour with the Ting Tings and Straylight Run. When ex-Tulsa (Park the Van) members Mikey Holland and Erik Wormwood joined in the fall of 2008, the revolving rhythm section was laid to rest. "When Mikey & Erik joined, it felt like the band was finally complete. The four of us see eye to eye on the important things. We also have enough divergent musical tastes to each bring our own thing to the table, and in the process, make the band better and more interesting." says Keene.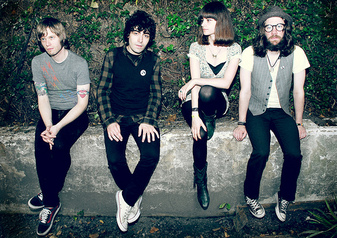 Over the course of the past three years, Mean Creek have shared stages with diverse national and international recording artists including Mew, Buffalo Tom, Margot & The Nuclear So & So's, Bishop Allen, Dead Confederate, Black Lips, and they made their first trip to South By Southwest this past spring.
On October 13, 2009, Mean Creek released their second album, The Sky (Or The Underground), on Old Flame Records. Recorded by Chris McLaughlin (Aberdeen City) at 1867 Recording Studio in Chelsea, Massachusetts, the album combines the gritty, blue collar-rock of bands like The Replacements and Husker Du, the sonically adventurous aspects of the Pixies and Mission Of Burma, with boy-girl harmonies reminiscent of the Arcade Fire and New Pornographers. "We're very proud of the new album. We put 100% of ourselves into it, exhausting ourselves physically, emotionally, and monetarily. We think that desperate sort of struggle shows through in the songs and makes them more powerful, and we hope people will feel the same way." says Keene.  Mean Creek are ready to make you notice Boston.
Tour Dates:
Dec 15 - Pour House - Charleston, SC
Dec 18 - Middle East - Boston, MA
Dec 31 - Great Scott, Allston, MA
Feb 3 - TT the Bear's - Boston, MA
Feb 4 - Jerky's - Providence, RI
Feb 8 - Knitting Factory - Brooklyn, NY
Feb 9 - Maxwell's - Hoboken, NJ
Feb 10 - Ottobar - Baltimore, MD
Feb 14 - Eleanor Rigby's - Jermyn, PA
Feb 15 - the Space - Hamden, CT