Melodious Thunk celebrates the music of Thelonious Monk
Submitted by Eigo on Wed, 10/03/2012 - 19:00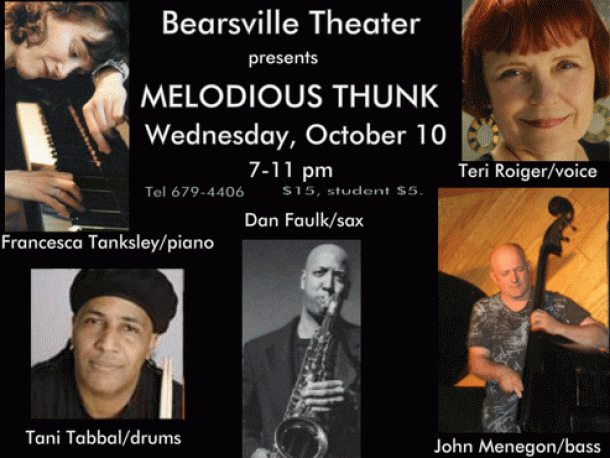 JAZZSTOCK will be presenting the music of Thelonious Monk in celebration of his birthday. This has become an annual event, but the first time it has been presented at the Bearsville Theater with the newly-formed Monk band:
MELODIOUS THUNK!
TIME: 7-11 pm
GENERAL ADMISSION: $15
STUDENTS (with ID): $5
The band will play 7-10 pm and then we'll open it up with a jam session honoring Monk's tunes from 10 'til 11 pm
LOCATION: THE BEARSVILLE THEATER, 291 Tinker Street, Woodstock, NY 12498
For reservations call 845-679-4406 or go to www.bearsvilletheater.com
Teri and John recorded and co-produced their first CD, Misterioso, with Kenny Burrell on guitar and Jack DeJohnette on drums. The title song, Misterioso, is one of Monk's most loved compositions, and has been changed to Listen To Your Soul, as a result of the Thelonious Monk family giving Teri permission to record her own lyrics to this jazz master's tune, an uncommon privilege.