Method of Defiance Play Rare NYC Show
Submitted by mike on Mon, 10/25/2010 - 22:17
The all-star crew that makes up Method of Defiance are some of the busiest and most accomplished musicians working today, but six of the seven group members have managed to join forces for a rare live performance on November 6th at Santos Party House.  Filling in for drummer Guy Licata is Hideo Yamaki, a living legend in the drumming world, also the most sought after drummer in Japan. Yamaki has played with countless Japanese musicians from j-pop sensations to traditional / classical artist, as well as western musicians like Cream's Ginger Baker and avant-garde legend John Zorn.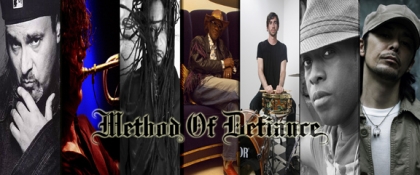 Method of Defiance was formed by Grammy-winning electric bassist, producer, and re-mixer Bill Laswell.  Laswell has worked with many of music's biggest names on the planet, including Herbie Hancock, Laurie Anderson,  George Clinton, Brian Eno, Tony Williams, Mick Jagger, Williams Burroughs, Afrika Bambaataa, Motörhead, John Lydon, Bootsy Collins, Carlos Santana, Matisyahu, Anthony Braxton, Sting, Zakir Hussein, John Zorn, Sonny Sharrock and hundreds more from the Americas, Africa The Caribbean, Europe, The Middle East, China, and Japan.  Laswell has built a reputation on consistently working with a diverse array of artists, and rejecting the restrictions of genre, tradition, and commerce in favor or taking risks and uniting seemingly disparate voices.
Method of Defiance has released the first of their three albums scheduled on M.O.D. Technologies.  Jahbulon features vocalists Dr. Israel and Hawk, keyboardist / Funkadelic icon Bernie Worrell, legendary bassist/producer Bill Laswell, and post modern/futurist drummer, Guy Licata.  It's a song driven release built on the foundations of reggae, hip hop, dancehall, dub, electronica, rock, roots reggae, drum & bass and the future.
The second album Incunabula (out November 6th), is a spontaneous improvisation of musical interaction. The album's lineup includes Bill Laswell on bass and dub efx, Bernie Worrell on keyboards,turntable master DJ Krush and on electric trumpet Japan's own, sound and fury - Toshinori Kondo, Guy Licata ondrums, Dr. Israel on dub efx,  with a special appearance by keyboard legend Herbie Hancock.
In April 2011, the guys will put out the remix project Dub Arcanum Arcandrum, a mix of both Jahbulon (the voice) and Incunabula (the music) re-imagined  by Bill Laswell, Lee "Scratch" Perry, The Scientist, Mad Professor, Dr. Israel, DJ Krush, and others.