Miami Reggae Fest Gives Back To South Florida for Thanksgiving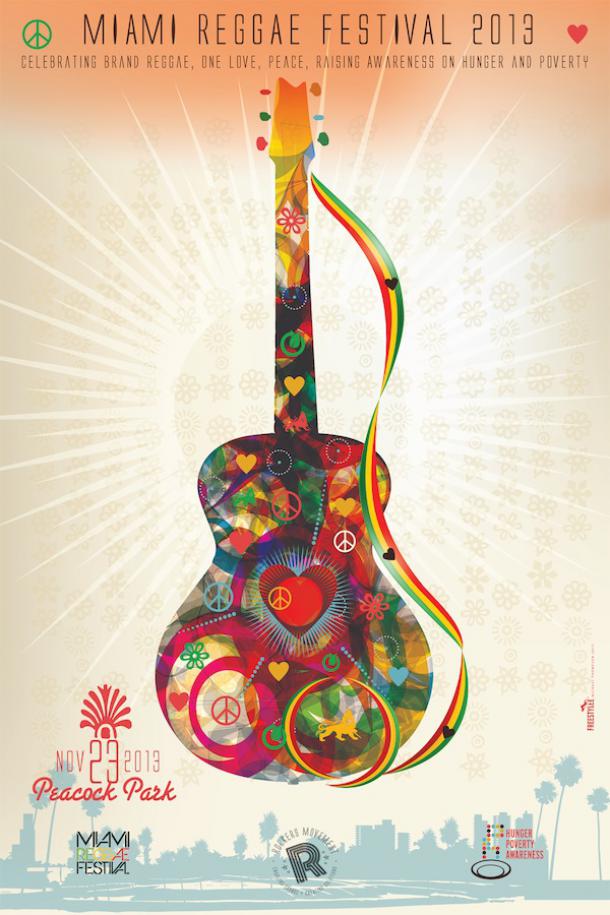 Non-profit organization Rockers Movement have announced that they will be collecting non-perishable food items for impoverished South Florida families at the Miami Reggae Festival on November 23rd. The effort takes place in advance of this year's Thanksgiving holiday and aims to break last year's record of 2 tons of donated food items. Through a partnership with TECHO, food will be distributed on November 24th in Coconut Grove and Liberty City.
Igniting the spirit of giving, Dr. Tony Abbassi, a Liberty City local business owner, has pledged a generous donation of 1,000 hens to the food drive. Dr. Abbassi of the Internal Medicine Institute recently opened his practice and says "Our mission is to help the community by supporting it. We are all about advancing and empowering our community in any way we can."
Attendees of the Miami Reggae Festival are asked to bring canned goods and/ or non-perishable food items for donation at the gate. TECHO volunteers will organize the food collected at the event for immediate re-distribution the following day. Coconut Grove donations will be distributed by the Coconut Grove CDC at Virrick Park; Liberty City donations will be distributed by Curley's House at the African Cultural Center. Volunteers will be distributing food at both locations from noon till 5pm. In reverence of unity, Miami Reggae Festival is offering free admission before 3 pm to all attendees who contribute two or more non-perishable food items.
Miami Reggae Festival is a family-friendly event featuring reggae performances from artists representing 9 different nations including Stephen "Ragga" Marley from Jamaica, Tiken Jah Fakoly from Africa's Ivory Coast, Cultura Profética from Puerto Rico, Natiruts from Brazil, Midnite from St. Croix USVI, Gondwana from Chile, and many more - a full musical lineup is below. The event also offers an artisan village of visual arts and handicrafts; various culinary vendors; an "Artecology Experience," offering interactive games for kids about sustainability, healthy living seminars and workshops, including AEROGA ® Yoga in the Park, meditation, and dance; plus drum sessions, a bike valet, and so much more.
Tickets for Miami Reggae Festival are currently on sale and can be purchased online at www.rockersmovement.com and through various South Florida locations. After 3pm in addition to your food donation general admission tickets are $45; VIP tickets are $75 and include access to a VIP lounge with private bathrooms. Kids 12 and younger are free when accompanied by a paid adult. 
Miami Reggae Festival is made possible with the support of the Miami-Dade County Department of Cultural Affairs and the Cultural Affairs Council, the Miami Dade County Mayor and Board of County Commissioners.
For more information about Miami Reggae Festival and Rockers Movement, visit www.rockersmovement.com
For more information about TECHO, visit www.techo.org/us
Performance Schedule at Miami Reggae Festival:
Yoga  – 11am
Bachaco (Venezuela) – 12:45pm
Causion (Antigua) – 1:30pm
Carroll Thompson (United Kingdom) – 2:15pm
Black Slate (United Kingdom) – 2:45pm
Gondwana (Chile) – 3:45pm
Midnite (St. Croix USVI) – 5:00pm
Natiruts (Brazil) – 6:15pm
Tiken Jah Fakoly (Africa's Ivory Coast) – 7:30pm
Stephen "Ragga" Marley (Jamaica) – 8:45pm
Cultura Profética (Puerto Rico) – 10pm
MC Lance O + Priscilla
DJ's rotating throughout the day include:
Don One Musical Showcase (Jamaica)
Cornerstone Sounds (Cuba)
DJ Majestic (Trinidad & Tobago)