Michael Gordon Fall 2010 Tour
Submitted by mike on Wed, 09/08/2010 - 18:31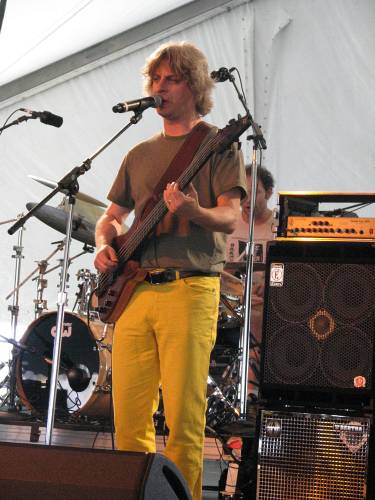 Michael Gordon, bassist of Phish, will be touring with his band beginning November 6th in Hollywood, CA.  Mike will be hitting the west coast for some shows before making his way through the midwest and back east to finish off the tour. Mike's band consists of: Mike Gordon, Scott Murawski, Todd Isler, Tom Cleary, & Craig Myers.
Check below for dates, venues, etc.  The Grateful Web will be on-hand at Mike's upcoming Fox Theater show in Boulder, Colorado -- so be sure to check back for photos and videos from the show.
Check out some previous reviews of other Mike Gordon shows, including Charlottesville, VA from October 2009 and Burlington, VT back in December of 2008.
Saturday, November 06, 2010
Doors: 8:00 PM
Troubadour
West HollywoodCA
Sunday, November 07, 2010 8:00 PM
Doors: 7:30 PM
The Independent
San FranciscoCA
Monday, November 08, 2010 8:00 PM
Doors: 7:00 PM
Aladdin Theatre
PortlandOR
Wednesday, November 10, 2010 9:00 PM
Doors: 8:00 PM
The Crocodile
SeattleWA
Thursday, November 11, 2010 8:00 PM
Doors: 7:00 PM
Wilma Theatre
MissoulaMT
Friday, November 12, 2010 9:00 PM
Doors: 8:00 PM
The State Room
Salt Lake CityUT
Saturday, November 13, 2010 9:00 PM
Doors: 6:30 PM
Fox Theatre
BoulderCO
Sunday, November 14, 2010 9:00 PM
Doors: 8:00 PM
The Waiting Room
OmahaNE
Tuesday, November 16, 2010 9:00 PM
Doors: 8:00 PM
Fine Line Music Cafe
MinneapolisMN
Wednesday, November 17, 2010 8:00 PM
Doors: 7:00 PM
Barrymore Theatre
MadisonWI
Thursday, November 18, 2010 8:00 PM
Doors: 7:00 PM
Lincoln Hall
ChicagoIL
Friday, November 19, 2010 9:00 PM
Doors: 8:00 PM
Bluebird Nightclub
BloomingtonIN
Saturday, November 20, 2010 9:00 PM
Doors: 8:00 PM
Madison Theater
CovingtonKY
Monday, November 22, 2010 8:00 PM
Doors: 7:00 PM
Beachland Ballroom
ClevelandOH
Tuesday, November 23, 2010 9:00 PM
Doors: 8:00 PM
Westcott Theater
SyracuseNY
Friday, November 26, 2010 9:00 PM
Doors: 8:00 PM
Port City Music Hall
PortlandME
Saturday, November 27, 2010 7:15 PM
Doors: 6:30 PM
Royale Nightclub
BOSTONMA