Michael Weiss Trio Performs at the Kitano
Submitted by press on Wed, 09/29/2010 - 01:11
Pianist and composer Michael Weiss leads a trio in tribute to the late, great Detroit pianists Hank Jones and Tommy Flanagan at the Kitano New York.  Joining Weiss are bassist George Mraz, who was a member of trios led by both Jones and Flanagan, and drummer Dennis Mackrel, a former member of Jones' trio.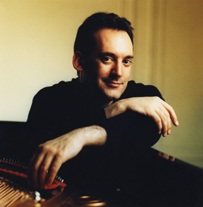 The suave and sophisticated styles of Flanagan and Jones have left an important imprint on Weiss, who considers both pianists to have been mentors. Weiss enjoys a similar relationship with another hero of Detroit, Barry Harris, who, like Flanagan and Jones, shares an affinity for Bud Powell, Thelonious Monk and mining a rich trove of neglected standards. Flanagan thought highly enough of Weiss that that he often attended his younger colleague's performances, including his 1992 Merkin Hall concert entitled "Rediscovered Rarities: Monk, Bud and Bird." When Flanagan was hospitalized briefly at one point, he even sent his wife to Bradley's, the premiere piano room of the day in New York, to take note of Weiss' repertoire. Last year Weiss and Jones shared the stage on the European festival circuit.
While Weiss still loves to draw from his unusually deep knowledge of jazz tunes and standards, his repertoire since the mid '90s has leaned toward his original compositions, which favor a meticulous attention to detail, rich harmonic schemes, formal ingenuity and imaginative melodic and rhythmic development. Still, while his writing has become fleshed out with a broader range of ideas and influences, his improvisations have never shed his bop-oriented roots. For this engagement, Weiss will perform a mix of originals, standards and selections by Thad Jones, Hank's  brother and a favorite composer of both Flanagan and Jones.
The Kitano is located at 66 Park Avenue. Set times are 8 and 10 p.m.There is a $25 cover charge and a $15 minimum.  For reservations and more information: (212) 885-7119.  For more information about Weiss, please click here.

MORE BACKGROUND:
A native of Dallas, Texas, pianist and composer Michael Weiss's extensive resume includes work with Johnny Griffin, Art Farmer, Frank Wess, Slide Hampton, Wynton Marsalis, Jimmy Heath, the Jazztet, Lou Donaldson, Charles McPherson, Von Freeman, George Coleman, Joe Wilder, the Vanguard Jazz Orchestra,  Junior Cook and Bill Hardman. Weiss made his Village Vanguard debut as a leader in 2006 with his quintet. Reviewing the ensemble's performance, New York Times critic Nate Chinen praised Weiss' composing, playing and bandleading skills, noting that "he demonstrated a strong sense of leadership and organization." Chinen also wrote that Weiss was "a confident and sometimes sparkling presence on piano" and that his playing exhibited "sensitivity and logic, along with crisp control."
Groups led by Weiss have performed at the Detroit Jazz Festival, the Stanford Jazz Festival, the Smithsonian Institution, NPR's "Jazzset," and in New York at the Village Vanguard, Blue Note, Jazz Standard, Jazz Gallery, Smoke, WNYC and WQXR. In 2000, Weiss was awarded the BMI/Monk Institute Composers Competition grand prize, presented to him by Wayne Shorter for his piece, "El Camino," which appears on Weiss' latest CD, "Soul Journey." With influences as varied as Scriabin, Szymanowski and Shorter, Weiss' compositions focus on extended forms, thematic development and attention to detail. In 2003 Weiss was a recipient of the Doris Duke/Chamber Music America New Works grant, for which he wrote the suite "Three Doors."
Weiss has recorded four albums as a leader, including "Soul Journey" (Sintra), "Milestones" (Steeplechase), "Power Station" (DIW) and "Presenting Michael Weiss" (Criss Cross). He has also recorded widely as a sideman, including four CDs with Johnny Griffin and dates with Charles McPherson, Frank Wess, Ronnie Cuber and others.